BlackRock VR teases Horizon V, the 'world's first true 4K VR headset'
The VR game is heating up, with the new Horizon V that features dual 7-inch 4K low-persistance OLED panels, and much more.

Published Wed, Jun 25 2014 4:13 AM CDT
|
Updated Tue, Nov 3 2020 12:16 PM CST
With the Oculus Rift taking most of the VR glory right now, even before we have a consumer edition in our hands, it's hard to get noticed in the world if you're a VR headset. Well, that's not the case for BlackRock VR, which just announced the Horizon V - the "world's first true 4K virtual reality headset".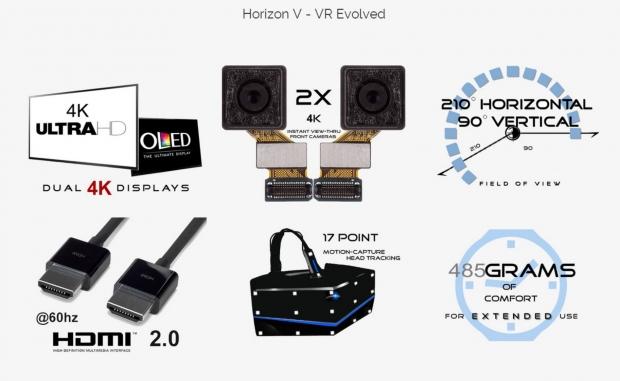 The 4K Horizon V uses dual 7-inch 4K low-persistance OLED panels, which will take up 96% of your eye's FOV, which according to BlackRock will take "over the brain's neuro-optical system". The dual 4K displays will be pumping out over 8 million pixels of content to your eyes, with a massive 629PPI for crystal clear VR.
Better yet, the Horizon V will feature dual 4K front-mounted pass-thru cameras. These two cameras are activated by pressing the one-click "X-vision" button that is found on the top of the VR HMD, allowing you to see the world in front of you in 4K 3D. The Horizon V has a 17-point motion-tracking system, a proprietary system called V-motion. This will work well with the low-persistance screen, as there will be no ghosting, motion blur or motion sickness according to BlackRock.
As for connectivity, the Horizon V will feature 2 x HDMI 2.0 ports and 2 x DisplayPort 1.2 connections. All of this weighs in at just 485g, so it should be light enough to not notice on your noggin'. Because of the dual 4K screens, you're going to need some serious GPU horsepower - with BlackRock recommending SLI and CrossFire setups. To run the Horizon V, BlackRock recommends you have two NVIDIA GeForce GTX 690s, Titan's or great, or AMD's Radeon R9 280X 290 or greater.
BlackRock is offering a 2-year warranty, and a 30-day satisfaction guarantee, where you are offered a full refund, no questions asked if the Horizon V isn't for you. How much does all of this cost you? A huge $1199. Pre-order now for $399.99 and you get the Horizon V for $999, a saving of $200. BlackRock is aiming for a Q2 2015 shipping date at the moment.
Related Tags