Intel is about to launch its 16-threaded (but 8-core) processor in September, and while that is for consumers, what is being played with behind closed doors in experiments is incredibly exciting - with a new 36-core processor teased by researchers at the International Symposium on Computer Architecture.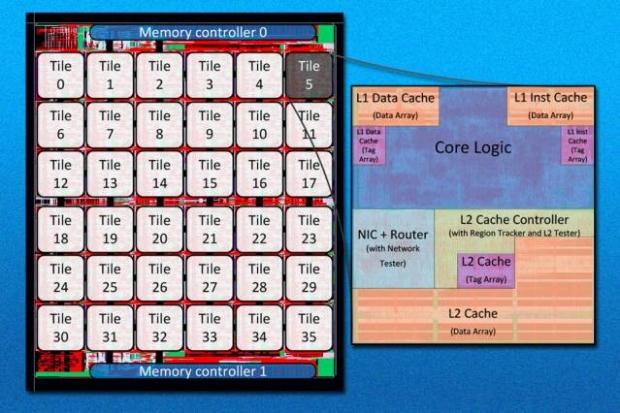 Li-Shiuan Peh, the Singapore Research Professor of Electrical Engineering and Computer Science at MIT, has said that the future of massively multi-core processors will be more like little Internets, where every core packs a router, with data travelling between cores in packets of fixed size. Peh's group unveiled a titanic 36-core processor that features this "network-on-chip" at the event.
Today's processors are connected by a single wire, and feature between 2 and 6 cores, with the multiple cores needing to talk to each other through exclusive access to the bus. But, this way won't work as the core count increases, as the other cores will be waiting for the bus to free up, rather than performing the duties you've set it out to do. With the network-on-chip, each and every CPU core is connected only to those that are directly next to it. Bhavya Daya, an MIT graduate student in electrical engineering and computer science explains: "You can reach your neighbors really quickly. You can also have multiple paths to your destination. So if you're going way across, rather than having one congested path, you could have multiple ones".
There's some more detailed reading at the source, but this is an incredibly exciting step for CPUs - a 36-core processor that thinks and acts differently to traditional CPUs sounds like it is the future.