Fusion-io to be acquired by SanDisk
SanDisk announces it will purchase Fusion-io for $1.1B in an all cash deal.
Published Tue, Jun 17 2014 7:07 PM CDT
|
Updated Tue, Nov 3 2020 12:16 PM CST
SanDisk is adding one more acquisition to its flash play with the latest announcement to acquire Fusion-io. Over the past two years, SanDisk has been rounding out its flash portfolio by acquiring Pliant Technology, Smart Storage Systems, and Schooner, but this latest acquisition is nearly twice the value of all three of those combined.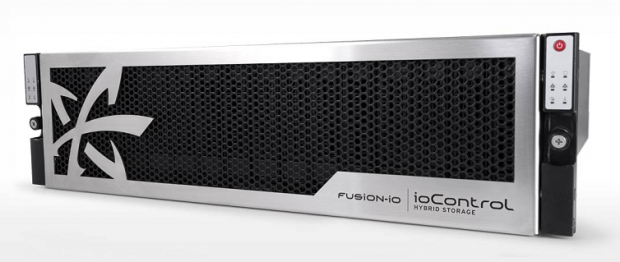 While the Fusion-io stock price has been on a steady decline over the past few months, the company still possessed a significant portion of the enterprise flash based PCIe market. SanDisk is looking to capitalize on this strength of Fusion-io in combination with its own capabilities from a component manufacturing standpoint. According to Sanjay Mahrotra, SanDisk president and CEO, "Customers will benefit from the addition of Fusion-io's leading PCIe solutions to SanDisk's vertically integrated business model."
Beyond these PCIe cards though, Fusion-io additionally brings an external flash play to SanDisk, the ioControl Hybrid Storage Appliance, technology that originates from Fusion-io's acquisition of NexGen Storage just last year. While Mahrotra may highlight the PCIe business, the addition of external arrays, albeit only hybrid for the time being, puts SanDisk in the mix of EMC, Netapp, Nimble, and the many other flash array vendors vying for enterprise storage business. Not to mention, the Fusion-io technologies combined with the other recent acquisitions now puts SanDisk in every possible flash market - software, modules, cards, and external arrays.
The deal is valued at $1.1 billion where SanDisk will acquire all outstanding shares of Fusion-io for $11.25 per share in cash. This is a healthy premium over the less than $8.00 per share that Fusion-io was trading at prior to the announcement. Especially, considering the looming competition from Seagate (via Avagao/LSI acquisition), PMC (Adaptec), WD (Verident), and a handful of stealth startups like I/O-Switch that are poised to truly commoditize the PCIe flash market.
Related Tags