NASA scores sharp images of near-Earth Asteroid using radar
NASA has gathers some of the most detailed radar images ever taken of a near-Earth asteroid this month.
Published Fri, Jun 13 2014 10:06 AM CDT
|
Updated Tue, Nov 3 2020 12:16 PM CST
NASA has fired up a pair of giant radar telescopes to take some of the sharpest views of a near-Earth asteroid ever taken. The image you see here was taken on June 8, 2014 as a large asteroid called 2014 HQ124 slipped past the planet. The large asteroid has a length of 1200 feet.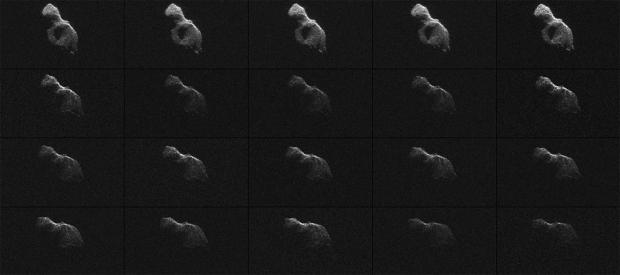 The asteroid has an irregular surface that is larger on one end than the other. Scientists believe that the asteroid could have formed from the impact of two asteroids that were fused into one. One of the most interesting feature images on the asteroid is a pointy hill near the middle of the object.
Scientists working on the imaging were able to take 21 radar images over a four and a half hour time span. The asteroid rotated a few degrees per frame. That rotation suggests that the total rotation period is less than 24 hours. The closest approach to Earth by this asteroid was 776,000 miles.
Related Tags