SandForce fills us in on the state of the company at Computex 2014
SandForce continues to expand compatibility for thier previous generation products and is full steam ahead on the SF-3700 architecture.
Published Jun 6, 2014 4:19 AM CDT
|
Updated Tue, Nov 3 2020 12:16 PM CST
1 minute & 23 seconds read time
Computex 2014 - LSI recently was purchased by Avago, who wasted no time selling the lucrative and successful SandForce and ASD (Accelerated Storage Division) to Seagate for a tidy sum. The elephant in the room is whether or not SandForce controllers are going to continue to be offered to SandForce's existing, and future, customers.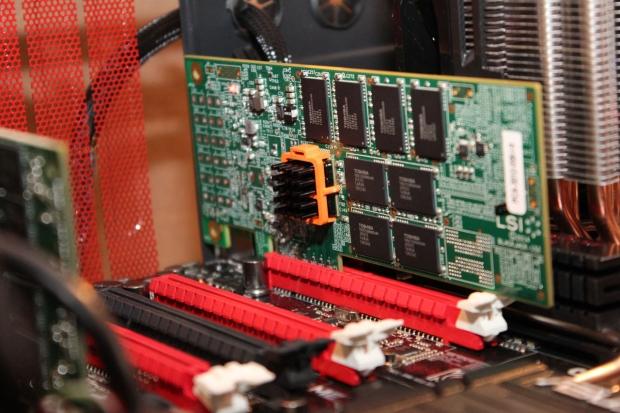 SandForce was the driving factor behind enabling a whole ecosystem of vendors and their respective SSD products. Seagate isn't necessarily in the component business, they tend to focus on providing complete solutions. This has created quite a bit of apprehension amongst SandForce customers. Until the sale is completed, and Seagate formally announces their buisnesss plan, there will continue to be a bit of uneasiness amongst current SandForce vendors.
Our meeting with SandForce representatives did much to allay the fears of many that SandForce controllers will be taken off the market. For SandForce, business is being conducted as usual and they are focused on executing their roadmap and providing support for their vast number of customers. It is full steam ahead on SF-3700, so lets take a closer look.
This reference PCIe SSD design was running a demo live for us in the suite. There is empty space for power capacitors on the PCB, which denotes the possibility of both enterprise and consumer applications being developed from this platform.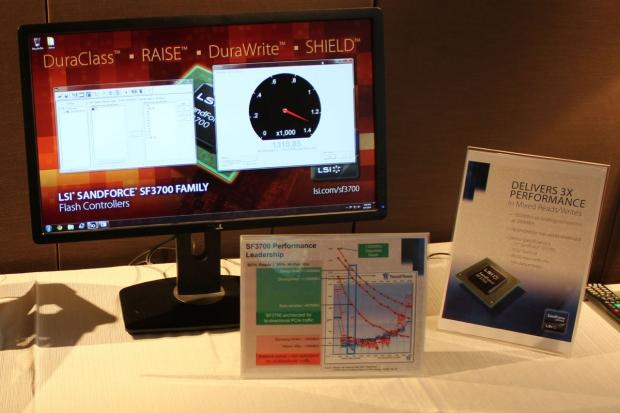 SandForce continues to tweak performance as development progresses, and now we are witnessing speeds in excess of 1,300 MB/s. Work continues to bring that peak up to the targeted 1,800 MB/s, which will outstrip any current product on the market. The testing results on the lower right are actually from a test we conducted on competing M.2 designs currently available on the market.
The rapid reduction in speed with any addition of write workloads is a significant performance disparity that SandForce hopes to address with more robust performance in mixed workloads. Testing flash performance can be a tricky business, hence the replication of our test techniques by other media outlets. Look for more replication of our internally developed test methodology on competing websites soon.
Related Tags