New adhesive helps in recycling discarded circuit boards using water
New conductive adhesive helps to separate components from the circuit once once submerged in water.
Published May 8, 2014 7:38 PM CDT
|
Updated Tue, Nov 3 2020 12:17 PM CST
1 minute & 28 seconds read time
The circuit boards are used in everyday electronics and PCs are based on epoxy glass and solder. The recycling process is tedious in this case as it requires to dismantle components safely. Its because of this, discarded electronic items simply are found in landfills. The National Physical Laboratory (NPL), In2Tec and Gwent Electronic Materials have developed a solution to improve the ability to recycle circuits boards up to 90% with the help of water.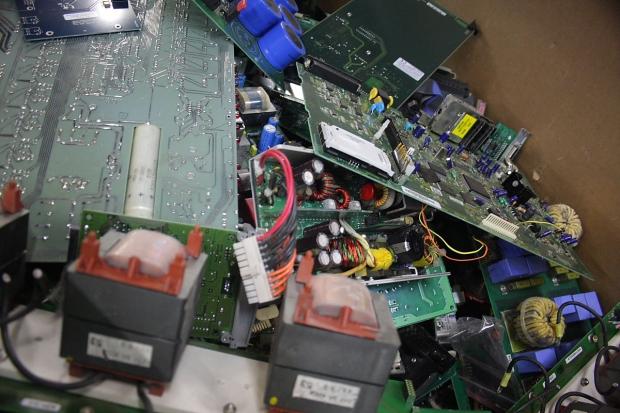 The three British companies have developed a special type of adhesive that can make PCBs recyclable up to 90% using water. This technology is called ReUse, which is short for Reusable, Unzippable, Sustainable Electronics.
"What happens to end of life electronics is one of the fastest growing waste streams," says Chris Hunt, head of the Electronics Interconnection Team at NPL. "Existing electronic circuit assemblies are based on reinforced epoxy glass systems and solder. A circuit board itself is a significant part of a final product, but it's made with a thermoset of glass that isn't easily recyclable."
The project is funded by the UK government's Technology Strategy Board which is finding solutions for industries to deal with electronic waste in Europe. ReUse uses thermoplastic substrate on which the conductive adhesive is applied. When its required to separate the components on the circuit board, it needs to be submerges in water closer towards the boiling point.
Its because of this process, it could be a feasible solution for recycling many electronic devices. But Hunt admitted that this is not a solution for all type of electronic hardware. He stated that certain types of high-end servers and high performance electronics operate at temperatures that's too hihe for ReUse. He also said,"There would have to be a step-change in a manufacturer's mindset to embrace this technology and until there is legislative pressure to change, they will stick with what they know. What you get with ReUse is the ability to take apart and recover your components and reuse them. But until there is a pressure to change, manufacturers will stick with what they know."
As of now, one of their business partners In2Tec has signed up with few companies in the automotive industry for this technology.
Related Tags