According to a report, NVIDIA has launched its plans to launch its flagship GPU GeForce GTX Titan-Z GPU that was expected to go on sale today. It was pointed out that the chipmaker is making last minute design changes for the GPU cooler.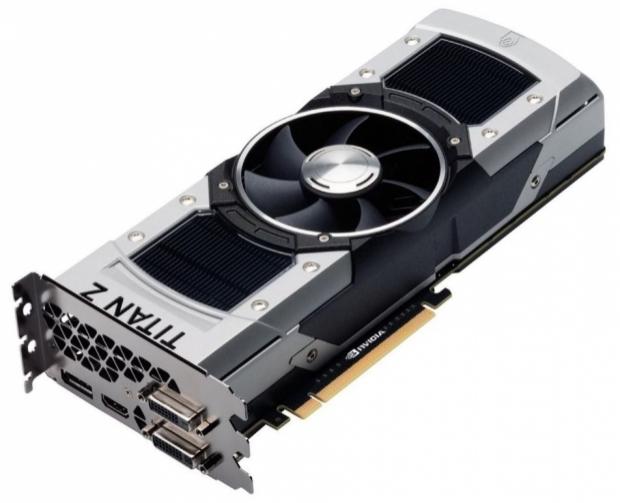 There's also another report which indicates that it cannot be put against AMD Radeon R9 295X2. It was pointed out that the reported clock speeds would not make the NVIDIA's flagship compete with Radeon R9 295X2.
According to few retail websites that leaked the information, the flagship card with 2x GK110 GPUs has the base clock of 695MHz with Boost Clock of up to 730MHz with 7000MHz memory clock, 2x 6GB memory, 2x 384-bit memory bus which will take power via 8+8 PCIe pin and priced for a jaw dropping $3,000.
Another main change between the GTC 2014 press shot and retailer press shot is that the former is a dual-slot version, whereas the latter is a three-slot version.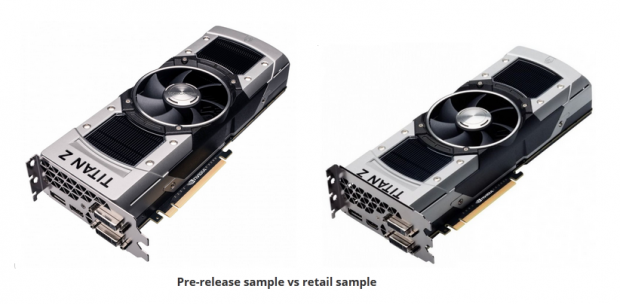 A 12GB frame buffer with 7000MHz memory through 384-bit memory bus is very impressive, even when compared with AMD's Radeon R9 295X2, which has 8GB of memory clocked at 5000MHz. The card would offer some computing capabilities which may explain the twice the price tag of the R9 295X2. But in saying that, it is being said that it may not justify the price tag in comparison with R9 295X2, it shouldn't be surprising that NVIDIA would make price cuts for this card, even after boosting the clock speed.