Twitch is seeing more viewership than ESPN, WWE streaming
Twitch is incredibly popular, with it taking nearly half of all live video streams in the US - overtaking the likes of Ustream, WWE, ESPN and more.

Published Sun, Apr 27 2014 7:31 AM CDT
|
Updated Tue, Nov 3 2020 12:17 PM CST
If you have heard or know about Twitch, then you'll know how big it is - but just how big? Well, according to video solutions company Qwilt, Twitch is leading the live video streaming game in the United States, by a long shot.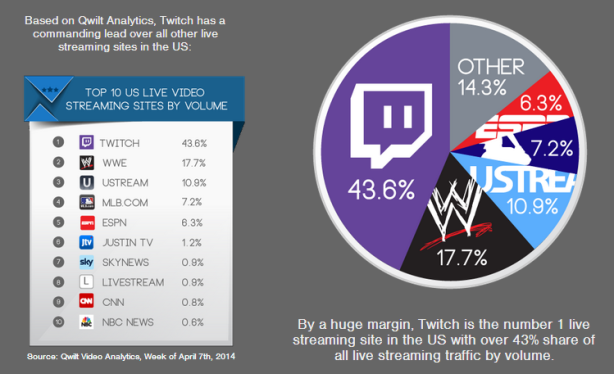 Twitch is currently enjoying a massive 43.6% of all live streaming viewership in the US, with its closest competitor WWE only seeing 17.7%. Even Ustream only pulls in 10.9%, while ESPN is struggling with 6.3%. Qwilt describes Twitch as "Yankee Stadium, Lambeau Field, Madison Square Garden, Estadia Do Maracana and Wembley all rolled into one" on its website. Most would look at that and laugh, but with those streaming numbers, how can you say otherwise?
Related Tags