HTC's One M8 gets pulled from 3DMark results for cheating the system
HTC has just been caught cheating the system and boosting its benchmark performance falsely when it recognizes that a benchmark program is running.
Published Tue, Apr 1 2014 5:06 PM CDT
|
Updated Tue, Nov 3 2020 12:17 PM CST
phLast summer it was Samsung that got caught cheating the system when it came to 3DMark benchmark scores, and it appears that HTC has now decided to follow a similar path with its new HTC One M8. 3DMark has delisted the new phone from its ranking system after research and testing was conducted by AnandTech that proved the M8 was falsely bumping performance when publicly available benchmarks were ran.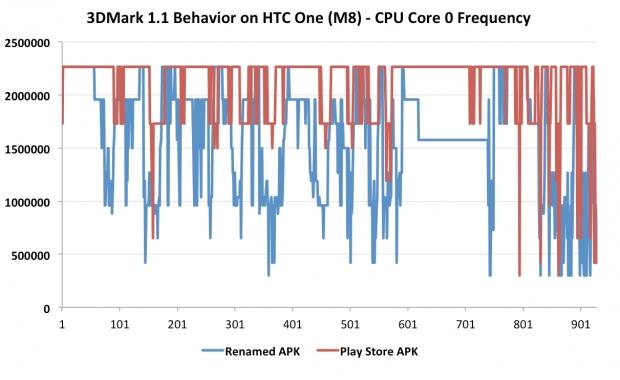 HTC was caught by a version of 3DMark that is not available to the public but otherwise identical to the public version showed results that were 15-percent lower than those ran on the detectable public version of the benchmark. This means that HTC is boosting performance when it detects 3DMark is running. This is a direct violation of Futuremark's rules and as such, it pulled all results from its 3DMark website.
HTC says that it does optimize performance when running benchmarks and that the deception is a feature as it shows the phones maximum performance. "Our engineers optimize in certain scenarios to produce the best possible performance. If someone would like to get around this benchmarking optimization there are ways to do so, but we think most often this will not be the case," said HTC. The issue is that 3DMark does not seek to discover a phones maximum performance, but rather its real-world performance. This means that the benchmark must be ran under normal everyday conditions.
Related Tags