GTC 2014 - Jen Hsun Huang, the co-founder and CEO of NVIDIA, has just unveiled the new GeForce GTX TITAN Z GPU. What does the Z variant of an already incredible GPU do?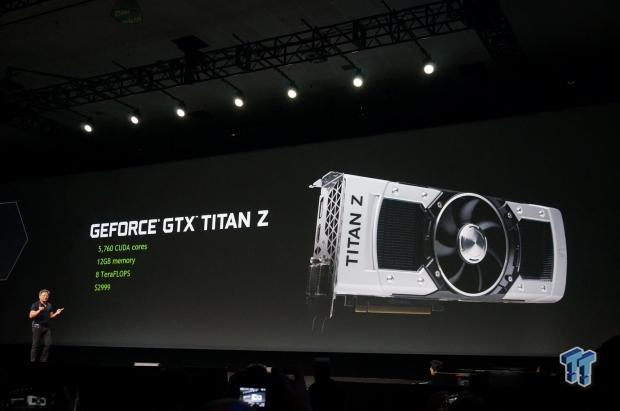 Well, how does 12GB of VRAM sound? GeForce GTX TITAN Z features two GK110 cores, 12GB of VRAM, 5,760 CUDA cores (2,880 cores per GPU), 8 TeraFLOPS of performance and a price tag of $2999. The TITAN Z's two GPUs run at the same clock speed, thanks to NVIDIA deploying dynamic power balancing.
This means that both GPUs will never see a performance bottleneck. We should see a card that is both cool and quiet, instead of hot and loud. NVIDIA is using low-profile components with a ducted baseplate that channels turbulence and improves acoustic quality.
We will have more on this soon, but I'm hoping I can score four of them before I go (please?).