EA gets voted out of the Worst Company in America, hell freezes over
EA gets kicked out of The Consumerist's Worst Company in America awards, Time Warner Cable takes its place.

Published Tue, Mar 25 2014 12:33 AM CDT
|
Updated Tue, Nov 3 2020 12:17 PM CST
Electronic Arts was in the running to win The Consumerist's Worst Company of America award for the third year in a row, but the company has been voted out of the running.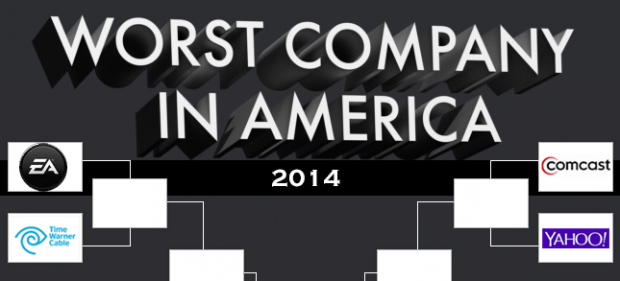 Time Warner Cable is now in EA's position, with the company winning out the race bracket with 51.2% versus EA's 48.8%. The Consumerist explains: "Despite its cock-up of the Battlefield 4 and Titanfall releases, EA just didn't have the all-out support that it had received in the previous two tournaments. And while Time Warner Cable has always merited a spot in the WCIA brackets, the company's pending merger with former WCIA champ Comcast undoubtedly played into readers' voting decisions."
The Consumerist continues: "Judging by the absolute crushing that Comcast brought down on Yahoo in its first round match, there is a lot of hatred out there for the nation's largest cable/Internet provider, and today's TWC result confirms that voters are more than happy to spread that hate around."
Related Tags