EA's Battlefield 4 now displaying in-game ads during loading screens
It was reported in Reddit that EA is pushing ads of an upcoming movie 'need for speed' via Battlefield 4 Premium Edition.
Published Thu, Mar 13 2014 12:29 PM CDT
|
Updated Tue, Nov 3 2020 12:18 PM CST
EA seems to be trying to keep Battlefield 4 in the news for all the wrong reasons. Its bad enough that gamers have to pay for a game that is known to have multiple issues despite getting series of fixes and patches along the way, but the company decides to rub salt into its fan's wounds by adding advertisements.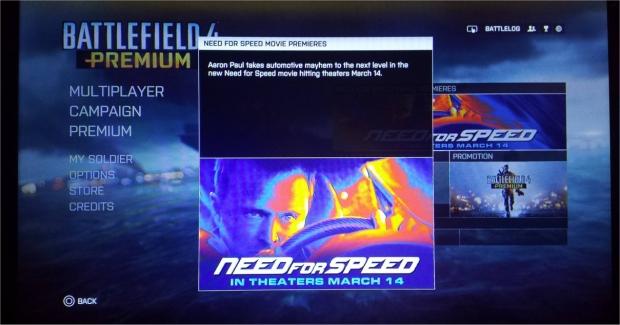 It was found that Electronic Arts is now including in-game advertisements to Battlefield 4's main menu and the loading screen. The advertisement of a movie based on its own game 'Need For Speed' was spotted in the main page. What's even more shocking is that Battlefield 4's premium subscribers who paid as high as $110 may now see advertisements displayed in the game's menu and the loading screen.
EA did use many of its titles to push advertisements: Madden, NHL, FIFA and many racing game franchises through in-game-stadium billboards, banners and even on the loading & home screens.
Battlefield 4 has been in the news more than once for bad reasons, even to a point that the game is deemed as 'broken'. Hosting ads does not help its existing Battlefield fans. It is also speculated that this decision was made as EA ditched online passes.
Related Tags