Naval Strike DLC for Battlefield 4 features dynamic weather, sunrises
DICE's upcoming Naval Strike DLC for Battlefield 4 will feature dynamic weather, sunrises, oh and a hovercraft.

Published Thu, Mar 13 2014 1:25 AM CDT
|
Updated Tue, Nov 3 2020 12:18 PM CST
Battlefield 4's latest DLC, Naval Strike, is nearly here and boy does it sound good. Naval Strike will feature dynamic weather patterns, and a map that starts at night, lasting through to sunrise.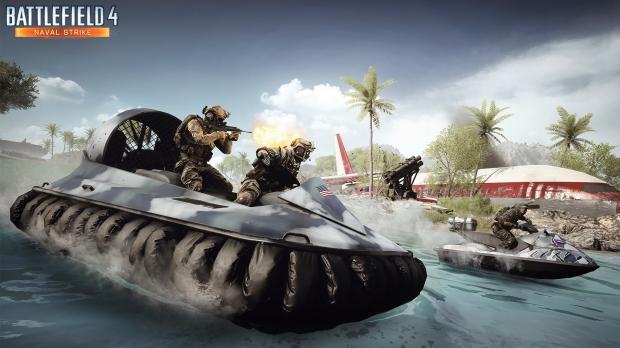 Naval Strike arrives with four maps, each with dynamic weather patterns - just as the awesome Paracel Storm map featured. A post on the BF4 blog states: "There'll be calm seas, stormy weather and many other weather effects. For instance, on the Mortar Strike map, you'll start fighting at dawn and the map will be lit up by the resort lights. As the fight rages on, the sunrise will drench the tropical island in beautiful sunlight."
There will also be a new vehicle featured in the Naval Strike package, an ACV hovercraft. The hovercraft is built for both land and sea, and will fit two soldiers on it. Naval Strike arrives in "late March" for Battlefield Premium members, and will arrive with the Carrier Assault mode, which is a nice homage to Battlefield 2142.
Related Tags