General Mills and DC Comics bring the magic back to the cereal box
General Mills Cereal partners with DC Comics to put the magic back onto your breakfast table.
Published Mon, Mar 10 2014 11:48 AM CDT
|
Updated Tue, Nov 3 2020 12:18 PM CST
If you like to entertain yourself at the breakfast table by reading the Wheaties' box, then your mornings have just gotten infinitely more entertaining. Last Tuesday, DC Comics announced they will once again be partnering with General Mills Cereal to provide special issue comic books within the boxes of select General Mills Big G cereals. If you miss the feeling of popping open the cereal box and digging out the prize, General Mills has you covered.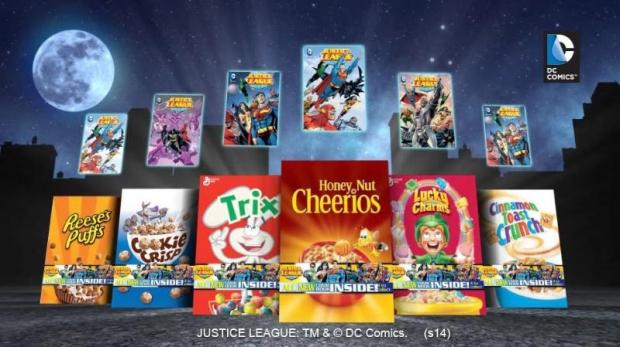 Back by popular demand! In 2011 the two companies featured a similar partnership in which General Mills cereals contained four special issue Justice League comic books, each of which featured the first part of a storyline that continued online through the General Mills website. This first partnership moved 12 million comic books -three million of each of the four issues.
This time DC Comics and General Mills are upping the ante with a fifth issue available exclusively through specially marked boxes of Cheerios available only at Target. Similar to the 2011 partnership, each book will focus on the Justice League, and will be part one of a short storyline which will continue through biggcerealheroes.com. This time around, the Justice League cast list will also feature Cyborg, and they will find themselves in opposition of big name villains like Lex Luthor, the Joker, Ra's al Ghul, and the sometimes-villain, Catwoman.
Special issue DC comics will be available now through April 2014, and will be included in specially marked boxes of Cheerios, Honey Nut Cheerios, Cinnamon Toast Crunch, Cookie Crisp, Lucky Charms, Reese's Puffs, and Trix.
Related Tags