Walk around in Seinfeld's apartment in VR thanks to Oculus Rift
Ever wanted to walk around in Jerry's apartment from 'Seinfeld'? Now is your chance, thanks to Oculus Rift.

Published Thu, Mar 6 2014 8:25 AM CST
|
Updated Tue, Nov 3 2020 12:18 PM CST
If you've ever wanted to live out a Seinfeld fantasy, and you own an Oculus Rift headset, now is your chance. Jerry's Place VR is a download for the Oculus Rift, which pits you right in the middle of Jerry Seinfeld's apartment from the hit TV show.
Fans can walk around the apartment's main room, bathroom, and Jerry's bedroom using Oculus VR's Rift headset, or even just a normal PC. Greg Miller, wrote on the project's website: "Television is virtual reality in some ways. I thought it would be a novel virtual reality experience to take a place that exists in Hollywood magic and make it for the Oculus Rift as if it were real".
Miller worked on Jerry's Place VR for around a month, using 3D modelling software to create a near-perfect, but virtual replica. He started the project off as a way to get used to using Unity, which is a game engine that a chunk of Oculus Rift-compatible titles are built on.
In order to make Jerry's Place VR as real as possible, Miller took to the Internet searching for images of the set, and getting to the point where he even took screenshots from Seinfeld episodes online.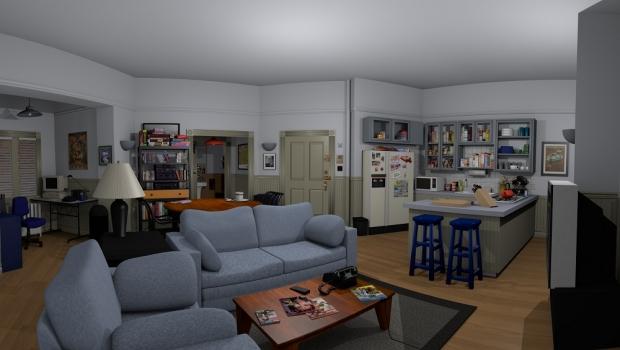 Related Tags