Samsung's wearable headset would blast a keyboard onto your hand
Samsung's Google Glass competitor wants to blast a virtual keyboard onto your hands.

Published Thu, Mar 6 2014 5:32 AM CST
|
Updated Tue, Nov 3 2020 12:18 PM CST
One thing I don't like with my Google Glass is that I can't type using it without pulling my smartphone, but it looks like Samsung is working on a way around this for its own wearable device.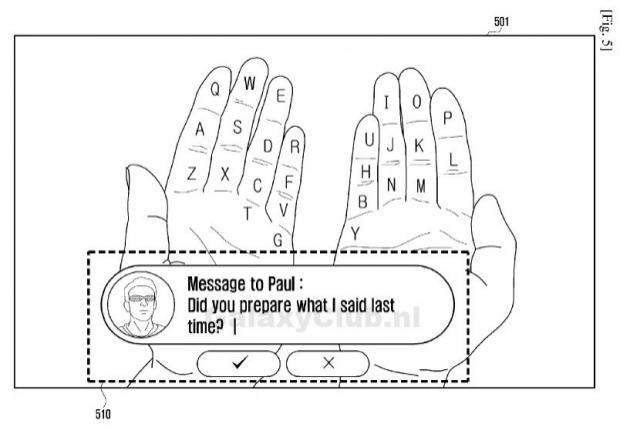 According to Galaxy Club, which has unearthed a new patent filing from Samsung, the company has been experimenting with the idea of using its wearable device to blast out an augmented reality keyboard onto users' hands in order to type out messages. You can see from the image above that the patent sees the device blasting out the QWERTY keyboard onto users' hands, leaving thumbs free to type on the augmented reality keyboard.
While this looks good on paper - or, on screen - I personally don't think this would be practical in any form. It might be nice for other functions of Samsung's Glass-like device, but for typing? Keep on keeping on, Samsung.
Related Tags