AMD starts reward points to give away free PC games, GPUs and stuff
AMD Radeon have started a reward point system for gamers to play a game or simply to optimize its in-game graphic settings for AMD Gaming Evolved app.
Published Wed, Feb 19 2014 12:54 PM CST
|
Updated Tue, Nov 3 2020 12:18 PM CST
AMD started a rewards program for PC gamers which is accessible via the AMD Gaming Evolved app which was launched in association with Raptr as announced during GPU14.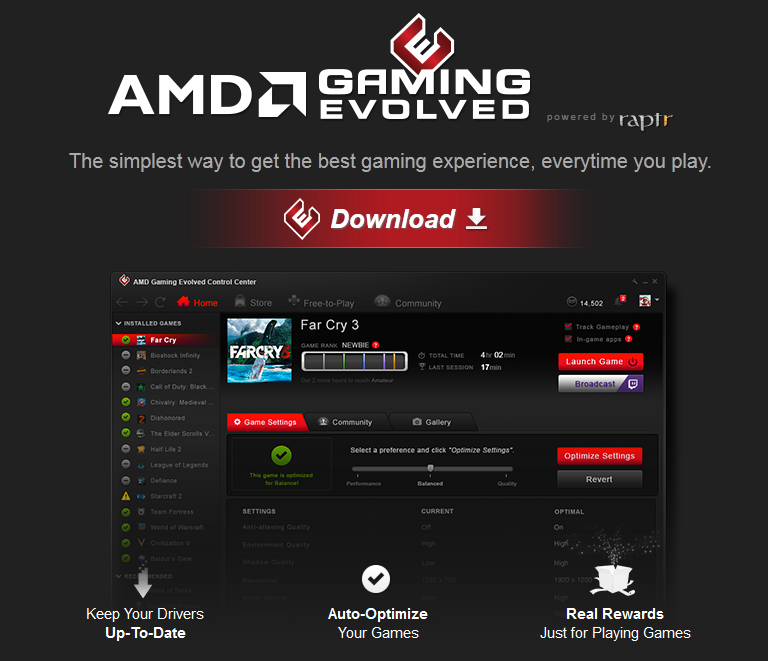 If you are using AMD Radeon video card with AMD Gaming Evolved app, you can collect points by doing various actions which involves the app, such as optimizing a particular game or playing a particular game. This makes gamers to be more involved to earn redeem points so that you can exchange them for whatever you require: discounts, games, items- even hardware.
This helps both gamers and AMD Radeon/Raptr in mutual ways. AMD Radeon/Raptr can build optimization database for particular hardware setups and AMD Radeon video cards and if its the best setting, gamers get reward points accordingly. For those who are not sure how to optimize many games with PCs using AMD Radeon video cards, all they have to do is use Gaming Evolved App and optimize the game via the app.
As of now, the points can be redeem for GameFly subscriptions, GUNNAR gaming eyewear gear, discount offers, gaming headsets, game titles and a Sapphire Radeon R9 Series GPU.
The app can be downloaded from here.
Related Tags