Digital Storm now offering NVIDIA GeForce GTX Titan Black GPUs
Digital Storm announces availability of NVIDIA GeForce GTX Titan Black and Maxwell GPU's for its boutique systems.
Published
1 minute & 7 seconds read time
Following this mornings announcement from NVIDIA, boutique PC builder, Digital Storm, has announced that it now offers all three of NVIDIA's new discrete graphics solutions in its line of custom gaming PCs. Digital Storm is offering both the GTX 750 and GTX 750 Ti, as a low-cost HD gaming solution to lineup. If Ultra-HD 4k gaming is more your style, Digital Storm is also offering NVIDIA's new flagship, the GeForce GTX Titan Black, the world's fastest GPU.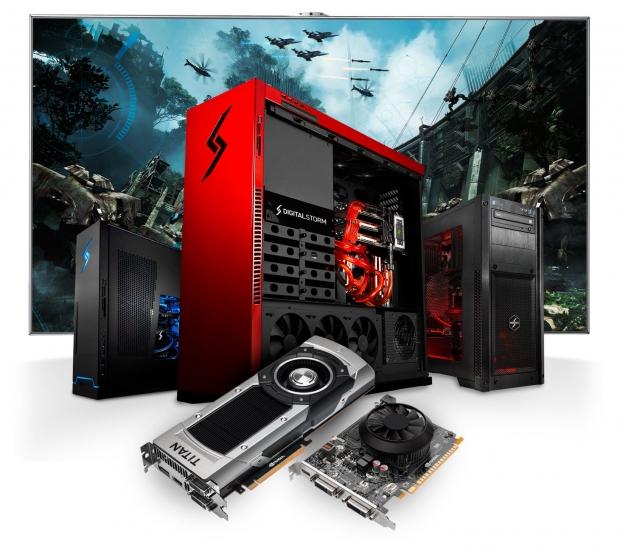 "HD gaming is the new standard and Ultra HD is not far behind with 4K displays already available for $800," said Rajeev Kuruppu, Digital Storm's Director of Product Development. "This is an exciting time for gamers and we're thrilled to incorporate NVIDIA's new cards into our systems to deliver the stunning graphics and advanced gaming experience our customers demand." Digital Storm went on to highlight a few of its PCs that pair up great with these new offerings.
The Aventum II, with its supercar inspired nickel-plated copper piping solution, is the ideal pairing for the TITAN BLACK. Combined with three huge 420mm radiators, the liquid cooling system is as efficient as it is beautiful and fully capable of unlocking the maximum performance potential of bleeding edge components like the world's fastest video card.

Gamers looking for small form factor PC (SFF) to deliver Ultra HD graphics need look no further than the Digital Storm Bolt II - a liquid cooled Steam Machine hybrid featuring both Steam OS and Windows. With double the cooling power of its closest competitor, Bolt II differentiates itself from other SFF and Steam Machine systems by focusing on delivering the best graphics possible and refusing to compromise on performance.
Related Tags