Microsoft and DocuSign team for eSignature support in Office 365
Office 365 gets eSignature support thanks to Microsoft and DocuSign tie up.
Published Tue, Feb 18 2014 11:04 AM CST
|
Updated Tue, Nov 3 2020 12:18 PM CST
If you have ever had someone send you a digital document that you had to sign and a fax machine wasn't handy, you know what a pain this is. You have to print the document, sign it with a pen, scan it back in, attach it to an email, and then email it back. Microsoft has announced that it is teaming up with DocuSign to streamline the process of signing digital documents.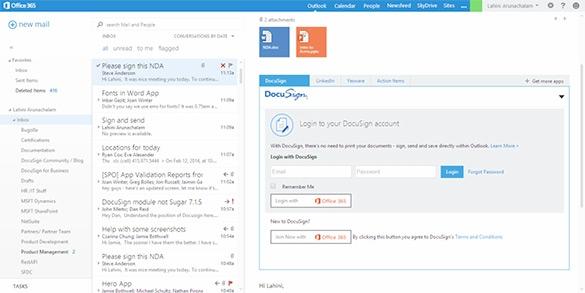 Microsoft and DocuSign have teamed up to bring the ability to digitally sign documents in Office 365. Office 365 is the online subscription version of the Office productivity suite. The long-term deal will definitely streamline the singing of digital documents.
Under the new deal, users of Office 365 will be able to apply digital signatures to documents from within Office 365. The app for digital signatures will be tightly integrated into Word, SharePoint Online, Outlook and more.
The Microsoft agreement that brings DocuSign support is a good thing for subscribers and helps add value to the subscription productivity suite to set it apart from free alternatives like Google Docs and others. It's unclear when the digital signature integration will be made.
Related Tags