SanDisk launches industry's first line of ULLtraDIMM SSD's
The world of enterprise storage has just changed for ever as SanDisk launches the industry's first ULLtraDIMM SSD!
Published Mon, Jan 20 2014 9:24 AM CST
|
Updated Tue, Nov 3 2020 12:19 PM CST
Today SanDisk became the industry's first manufacturer to launch a line of ultra-low latency, memory channel-based ULLtraDIMM solid state drives. The new SanDisk ULLtraDIMM SSDs are basically SSDs flash memory that has been populated on memory-channel DIMMs to provide as low latency as possible to ensure data gets to the CPU as fast as possible.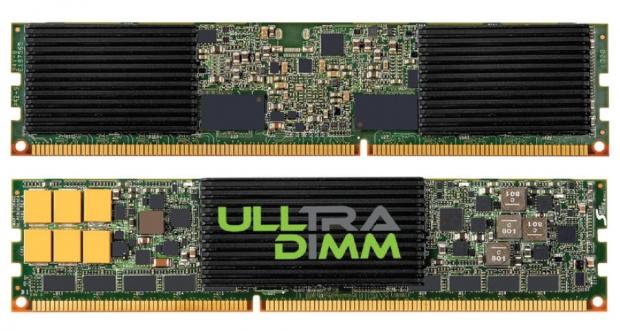 "The SanDisk ULLtraDIMM SSD was designed to expand the reach of ultra-low latency flash storage throughout the data center and scale to meet the requirements of any enterprise application, no matter how bandwidth or capacity intensive," said John Scaramuzzo, senior vice president and general manager, Enterprise Storage Solutions at SanDisk. "The ULLtraDIMM SSD's linear performance scalability and innovative DIMM form factor allow organizations to deploy flash as their application requirements change, without requiring significant infrastructure investment."
The new ULLtraDIMM SSDs are perfect for business applications where the CPU needs to access data absolutely as fast as possible such as High Frequency Trading of stocks, VDI, transaction processing, and visualization. The new DIMM-based SSDs allow for ultra dense server storage configurations as the modules can be added to existing server DIMM slots. The TweakTown team got to secretely preview a 200GB stick of these new ULLtraDIMM SSD's while in Las Vegas for Storage Visions and CES. Our own Paul Alcorn sat down with John Scaramuzzo to talk about ULLtraDIMM as well as CEO and co-founder of Diablo, Riccardo Badalone. Diablo partnered with SanDisk to bring the new ULLtraDIMM technology to market. Additionally, Paul talked with Scaramuzzo back in 2013 at the Flash Memory Summit about the same topic.
The new SanDisk ULLtraDIMM SSD will be utilized by IBM under its eXFlash DIMM brand as an option in its x3850 and x3950 X6 servers. In benchmarks conducted by IBM, the eXFlash DIMM SSDs were able to achieve a write latency of 5-10 microseconds which is the lowest ever seen in the SSD storage industry. This allows for virtually instant access to all data stored on the ULLtraDIMM SSDs.
Related Tags