Rumors about secret hidden software in tech devices are as old as tech itself, and since the beginning of personal computing people have been devising clever ways to trick others into formatting their machines. Unfortunately, a new rumor has popped up that has tricked Mac owners into doing just that.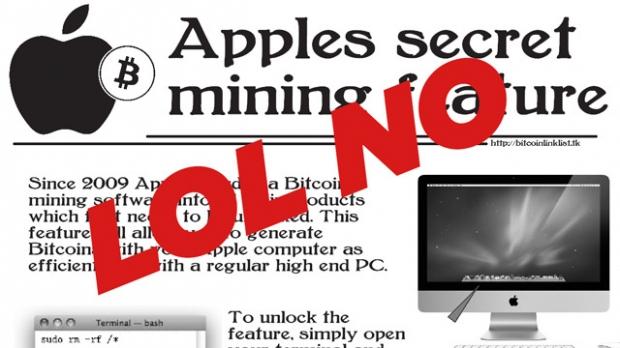 A new infographic is spreading like wildfire around the internet that claims that Apple has been installing Bitcoin mining software into their Mac devices since 2009. The infographic informs users that they can unlock this feature by opening up the terminal and entering the command "sudo rm -rf/*" Unfortunately, this command does not unlock any hidden programs, apps, or features, but actually tells the users Mac to format itself, which causes a loss of all data, and a bricked device.
Apple or Linux gurus who are use to the terminal will instantly know what this command means, but for those who have no clue, let me break it down for you.
sudo - Gives permission to execute the following string of commands.
rm - Remove :This will remove any file specified in the system.
-rf - recursive and force : This will remove all files and folders inside the specified directory.
/ - this specifies the root directory
* - this is a wildcard, and ensures that all directories in the root are also selected.
So basically this command tells the Mac to delete all files contained in the root directory. Since everything is contained within the root directory, every piece of data on the device will be deleted. If this is not clear enough, I will simplify things by saying: DO NOT RUN THIS COMMAND UNLESS YOU WANT TO LOSE ALL OF THE DATA ON YOUR MAC!