2014 is going to be a big year for SSD technology in general, and the second quarter is going to be no exception for Intel's SSD business. Today new official slides have leaked that detail a massive portion on Intel's 2014 SSD offerings, and include new devices in the Temple Star, Pleasantdale, and Fultondale lines.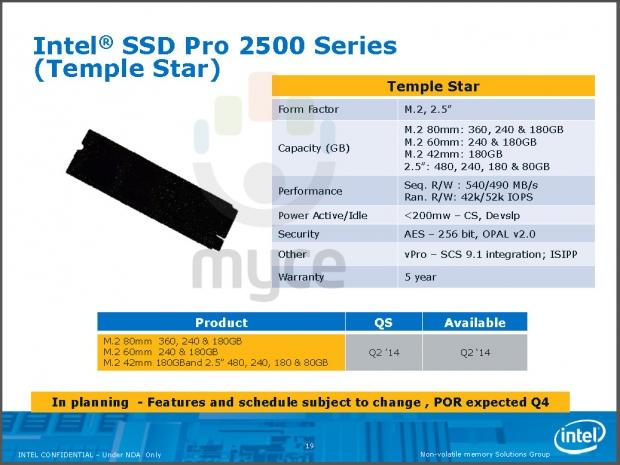 All three of the SSD families will utilize 20nm MLC NAND Flash memory and will arrive in three form factors. The SSD Pro 2500 Series (Temple Star) will be featured in traditional 2.5-inch and M.2 sizing with performance falling in the 540MB/s read and 490MB/s write speed range. The slide shows capacities from 80GB up to 480GB.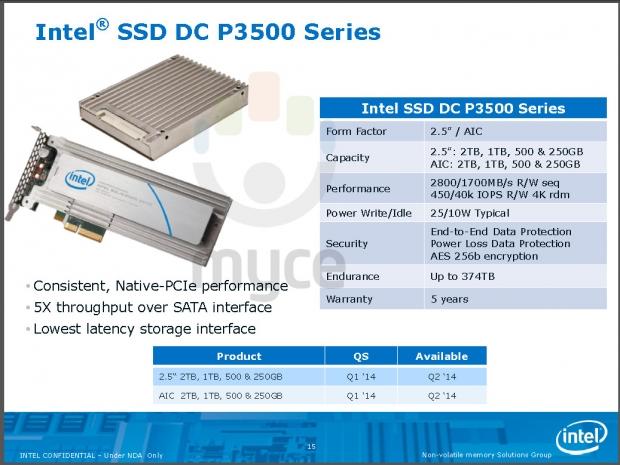 The SSD DC P3500 series (Pleasantdale) will arrive in both PCIe and 2.5-inch form factors, and will be available in 250GB, 500GB, 1TB and 2TB capacities. Read performance is around the 2800MB/s range while writes are a little slower at 1700MB/s.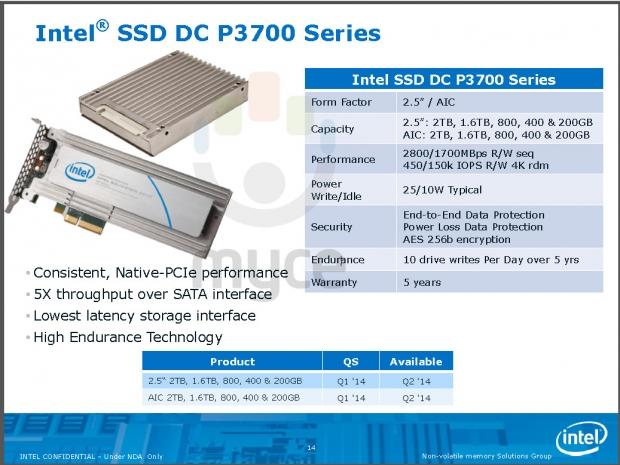 The SSD DC P3700 series (Fultondale) will feature High Endurance Technology (HET) on its NAND chips, and will arrive in PCIe and 2.5-inch form factors. Read speeds are in the 2800MB/s range while write speeds are around 1700MB/s. The durable SSD's will be available in 200 GB, 400 GB, 800 GB, 1.6 TB and 2 TB capacities.