One of the biggest bottlenecks in any project involving custom circuitry is troubleshooting the actual circuit itself before moving to manufacturing something permanent. A new project on Kickstarter will greatly improve on the speed at which one prototypes electronic circuits.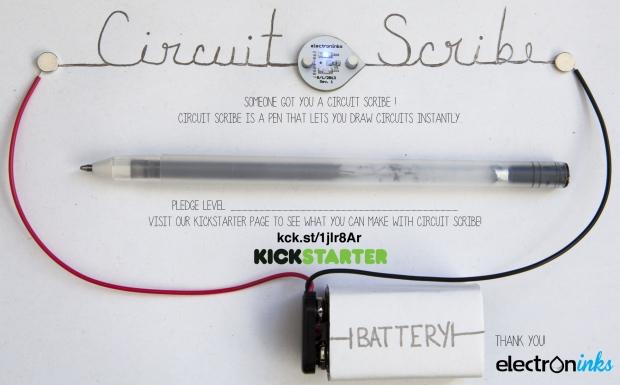 Circuit Scribe is exactly what its name says it is, a pen that lets you draw electronic circuits via conductive ink. Designed for Makers, STEM Educators, Artist, Kids and Life Hackers, the Circuit Scribe pen allows users to simply draw out their circuits, place components onto the lines, connect a power source and then watch things come to life.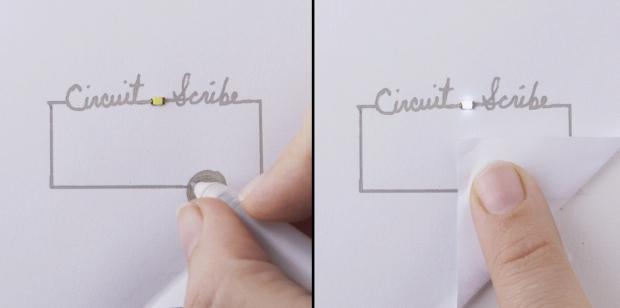 The team wanted to offer an easy way for Circuit Scribe users to quickly prototype circuits, so they also created a set of modules that house individual components and dubbed them "Electroninks Components." These little modules range from LED boards all the way up to boards that house integrated circuits such as 555 timers. Rare earth magnets appear to hold things in place on the paper to keep good contact with the inked circuit.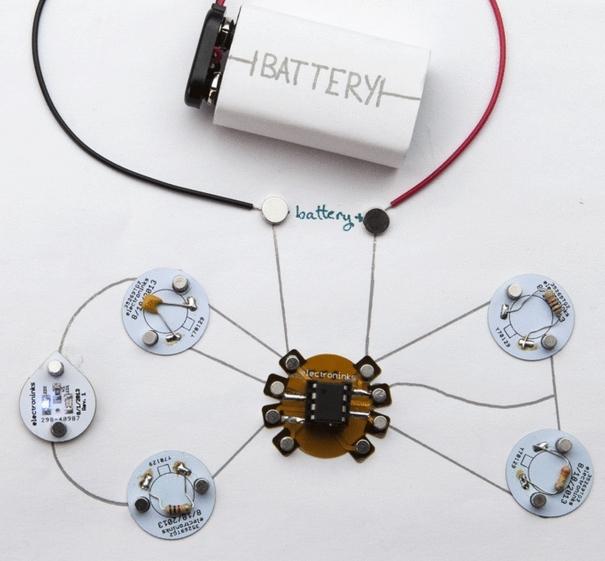 With 36 days to go, Circuit Scribe has already passed its original funding goal of $293,734 a few times over and have also surpassed their first stretch goal of $250,000. A pledge of $20 gets you into the game with a Circuit Scribe conductive ink pen, and a LED module, while $30 lands you the Basic kit which consist of the conductive ink pen, 2 LED modules, a slide switch, an NPN Transistor, coin batteries, a two pin prototyping board, and some other things such as jumper stickers which are used to bridge previously drawn circuits.
The pledge prices continue to rise from there and include a Maker Kit which includes the basic kit as well as a notebook, and several other more advanced component modules such as a photo sensor, 8-pin DIP module, RGB LED, and more. The top dog prize is a $5000 pledge which will land the creators of Circuit Scribe in your classroom or makerspace for a day long introductory course for you and your students / members and includes enough kits for everyone to participate. I jumped in for the Developer Kit and can not wait to post up my thoughts and conclusions on the Circuit Scribe!