Earlier this month we got our first look at NVIDIA's GeForce GTX 780 Ti GPU when Anthony Garreffa attended NVIDIA's press event in Montreal Canada, and earlier this morning we saw official pricing and availability numbers released from NVIDIA. Now just a few hours later, we are learning that the GTX 780 Ti may be faster than anyone ever expected.
A member of the XtremeSystems forums posted earlier today, what he claims to be benchmarking results of the GeForce GTX 780 Ti from the 3DMark 11 benchmark suite. If true, the results are shocking to say the least. The GTX 780 Ti appears to not only be faster than AMD's recently released R9 290X, but it is much faster than NVIDIA's own GTX TITAN. Making this more remarkable, the GTX 780 Ti is only priced at $649, which is $350 less than its bigger brother the TITAN.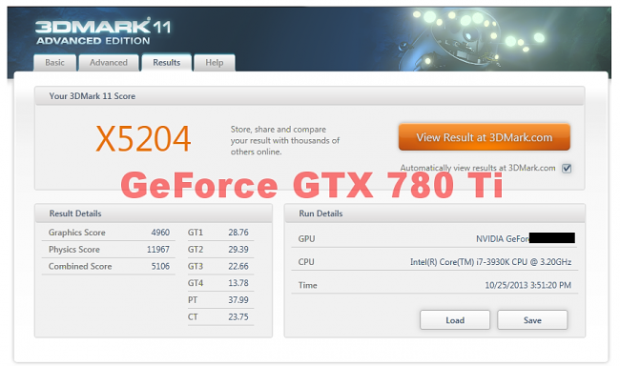 Whether or not the leak is a fake, I will leave up to you, but I would like to recant my previous statement that the R9 290X is the Titan Killer, and change things to state that the GTX 780Ti is in fact the Titan Killer. We will see the new GTX 780 Ti edition release to the public on November 7th.