Corsair has managed to dominate the high-end PC fan market lately with their Air Series of High Airflow PC fans, and today the company announced a new colorful addition to the series. Earlier today, Corsair unveiled its new Air Series AF 120LED and Air Series AF140 LED lines of high-performance PC case fans.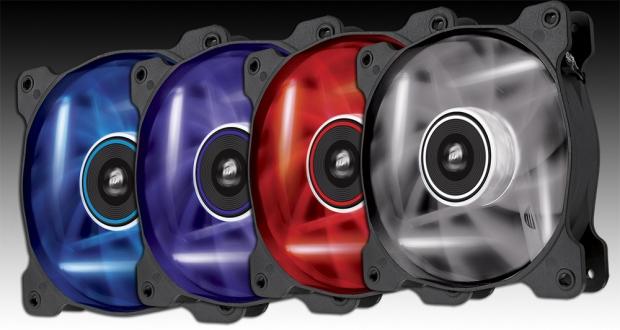 Corsair says that these new fans are the only LED equipped fans to utilize the company's award-winning AF series impeller that produces higher airflow at lower noise levels than the competition. The fans have been designed using custom molded, ultra-thin, clear frosted blades that shine bright when illuminated by the four built-in high-intensity LEDs. The fans truly shine while still maintaining the superior performance level Corsair is known for.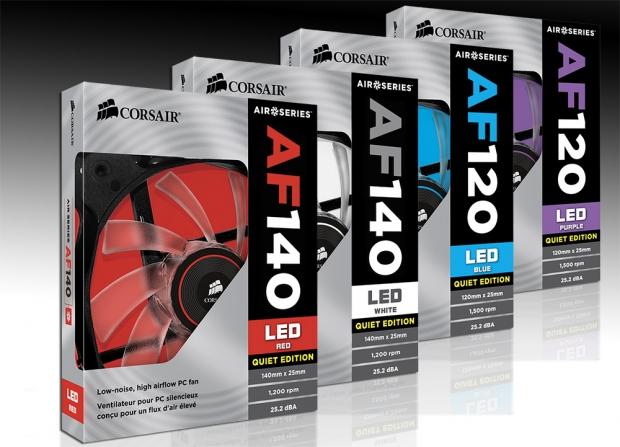 "Users often feel they are sacrificing quality when using LED fans," said Xavier Lauwaert, Director of Product Marketing at Corsair. "Our new Air Series LED fans combine the proven low-noise, high-performance design of our standard Air Series fans with just the right amount of LED visual flair. Now users can enhance and customize the look of their PCs with LED fans without compromising performance."
The new Air Series LED fans are available in Red, White, Blue, and Purple and come in 120mm and 140mm sizes. Prices range from $12.99 for a single 120mm unit up to $23.99 for a dual pack. Single 140mm fans will retail for $15.99 MSRP. Corsair says that the new fans are available immediately at all major retail partners.