VorpX lets countless games be used on Oculus Rift, costs just $40
VorpX + Oculus VR = gaming nirvana.

Published Tue, Oct 1 2013 12:40 AM CDT
|
Updated Tue, Nov 3 2020 12:20 PM CST
Oculus Rift is incredibly awesome, but it is quite limited when it comes to fully supported games. VorpX has stepped in, unleashing its software which is still in beta, which opens up the world of virtual reality to countless new games.
VorpX works with huge games like BioShock Infinite and Mirror's Edge, but best of all, it works with Battlefield 3. None of these games are built to work with the Rift headset, so there are some workarounds that the team of VorpX has used. This includes clicking in and holding down your middle mouse wheel which will let you "edge peak."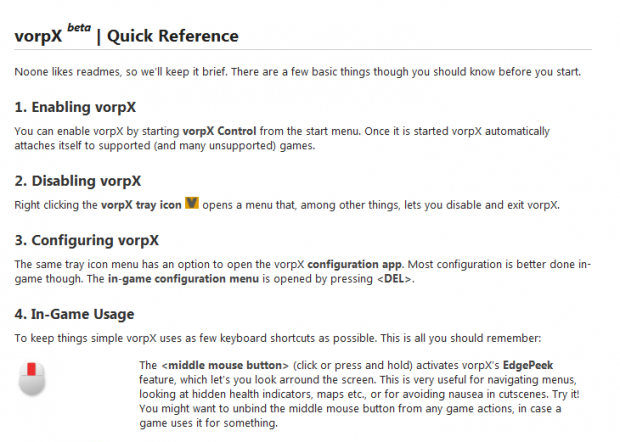 Edge peak allows you to look freely at the edges of your field of view, instead of moving within the game world by moving your head, and the Rift. The list of compatible games with Rift thanks to VorpX is huge, and I'm quite excited to test out a bunch of them this week.
Alan Wake

Aliens - Colonial Marines

Alice Madness Returns

Anna

ArmaA 2

Arx Fatalis (DX9 Mod)

Assassins Creed

Assassins Creed II

Batman Arkham City

Battlefield 3

Bioshock

Bioshock Infinite

Borderlands 2

Call of Juarez - Bound in Blood

COD - Black Ops

COD - Black Ops 2

COD - Modern Warfare 3

Chivalry (UDK.exe)

Civilization V

Clive Barkers Jericho

Crysis

Crysis 2

Crysis 3

Dead Space

Dear Esther

Deus Ex Human Revolution

Dirt 2

Dirt 3

Dishonored

Dragon Age Origins

Dragon Age II

Drakensang 2

F1 Race Stars

F1 2011

F1 2012

Flatout

Flatout 2

Fallout 3

Fallout New Vegas

Far Cry

Far Cry 3

Far Cry - Blood Dragon

Fuel

Flight Simulator X

Gothic 3 - Götterdämmerung

GTA IV

Half-Life 2

Just Cause 2

L.A. Noir

Lock On Flaming Cliffs 2

Mafia II

Mass Effect

Mass Effect 2

Mass Effect 3

Max Payne 3

Miasmata

Mirrors Edge

Mount & Blade Warband

Metro 2033

Morrowind (DX9 Mod)

Myst 5

NFS: Most Wanted

NFS: Shift 2

Oblivion

Op. Flashpoint - Dragon Rising

Op. Flashpoint - Red River

Portal

Portal 2

Psychonauts

Race Driver GRID

rFactor

Slender

Slender - the Arrival

Skyrim

Splinter Cell 3

Stalker - COP

Star Trek [2013]

Tomb Raider [2013]

Tomb Raider Anniversary

Tomb Raider Legend

Tomb Raider Underworld

Trackmania 2 - Canyon

Vampire - Redemption

Venetica

Virtua Tennis 4

Walking Dead, The

Wings of Prey (acess.exe)

Witcher, The

Witcher 2, The

World of Warcraft
Related Tags