Micron Technology has just announced that it has began shipping the first engineering samples of its new 2GB Hybrid Memory Cube DRAM modules. The company says that the new Hybrid Memory Cube (HMC) represents a dramatic step forward in memory technology and has been designed for applications that require high-bandwidth access to memory.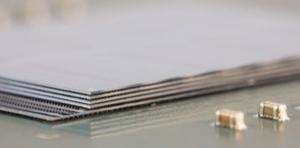 HMC utilizes what Micron calls advanced through-silicon vias, which are basically tiny conduits that transfer electricity through a stack of individual chips. Micron's HMC is a 2GB memory cube that is composed of a stack of four 4Gb DRAM die, which provides an amazing 160GB/s of memory bandwidth while consuming 70 percent less energy per bit than current technologies.
"The Hybrid Memory Cube is a smart fix that breaks with the industry's past approaches and opens up new possibilities," said Jim Handy, a memory analyst at Objective Analysis. "Although DRAM internal bandwidth has been increasing exponentially, along with logic's thirst for data, current options offer limited processor-to-memory bandwidth and consume significant power. HMC is an exciting alternative."
"System designers are looking for new memory system designs to support increased demand for bandwidth, density, and power efficiency," said Brian Shirley, vice president of Micron's DRAM Solutions Group. "HMC represents the new standard in memory performance; it's the breakthrough our customers have been waiting for."