We've known that BlackBerry Messenger is making its way to Android for quite some time now, and while we had hoped for an OS-wide launch sometime in July, it appears that the first Android devices to get BBM will be of Samsung origin. Earlier today, website CrackBerry spotted a teaser ad that was posted on both YouTube and Samsung's Ghana Facebook page.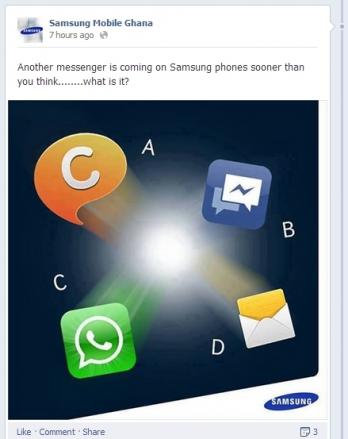 Unfortunately, the YouTube video has since been removed, but the Facebook posting is still up at the time of this writing. It makes sense that the company's Ghana page would be the first to post as BlackBerry Messenger is a major form of communication in many African countries.
So what does this mean? I think we may see the app officially announced by Samsung or BlackBerry at the IDC trade show in Berlin, Germany, next week, and with a working port for Android-based Samsung devices now in existence, it is only a matter of time before BlackBerry Messenger is in the Google Play Store for all Android devices. That is, unless BlackBerry did something stupid like sign an exclusivity deal with Samsung, but then again this is BlackBerry were talking about and weirder things have happened in the past.