Today, Mad Catz announced the launch of its new Force Feedback Racing Wheel designed to work exclusively on Microsoft's upcoming Xbox One gaming console. Mad Catz says that the wheel has been specifically designed to offer the most authentic driving experience one can possibly have on an Xbox One.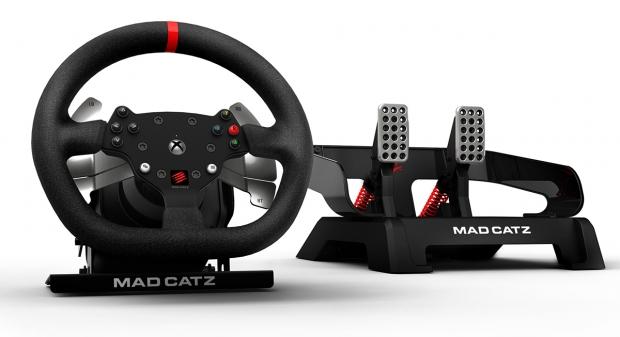 The steering wheel has been CNC machined out of aluminum and then wrapped in genuine suede leather to provide a solid yet comfortable experience. Furthermore, the wheel is packed full of technology, including dual next-generation force feedback motors and high precision buttons, to ensure the highest performance possible. If that wasn't enough, the entire steering wheel is removable in the event the user wishes to upgrade in the future.
"As we approach the Holiday season, excitement continues to mount for Xbox One and we're pleased to announce our second premium product for the console" said Darren Richardson, the President and Chief Executive Officer of Mad Catz Interactive, Inc. "We have previously commented on how the enhanced performance of Xbox One opens up additional scope for innovation and believe that the precision engineering and customization of the Force Feedback Racing Wheel will appeal to the passionate racing gamer."
Mad Catz says that Force Feedback Racing Wheel is ideal for games such as Forza Motorsports 5 or any of the next-generation racing games coming to the Xbox One this fall. The kit also includes a fully adjustable pedal set that allows users to adjust the spring resistance, height, and even spacing on the gas and brake pedals. No information was provided on pricing or availability, but we do know that the Force Feedback Racing Wheel from Mad Catz will launch this holiday season.