Saints Row gets a $1 million pre-order package
Need to find something to do with that $1 million you have laying around? This Saints Row 4 pre-order package may be for you!
Published Fri, Aug 9 2013 10:54 AM CDT
|
Updated Tue, Nov 3 2020 12:21 PM CST
Saints Row is one of those games you either love or hate, but the game franchise does have some very loyal fans and a very large cult following. Knowing this, UK retailer GAME has launched a pre-order package of epic proportions.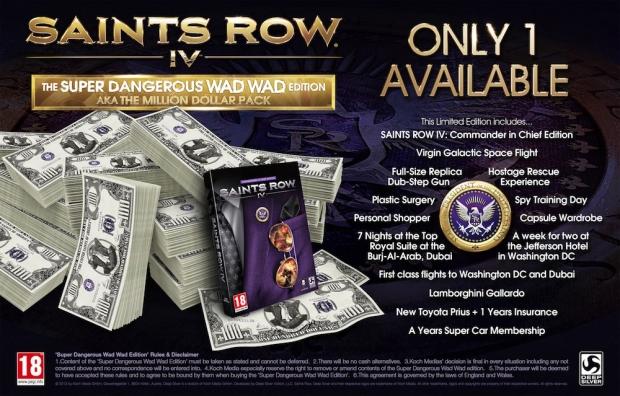 That's right, the price in the image above is $1 million, but in all fairness, you get some pretty sweet perks upon purchase. These include a flight in space courtesy of Virgin Galactic, spy training, a complete wardrobe makeover, a seven night stay at the top of the Burj-Al-Arab in Dubai, a Lamborghini, and a new Toyota Prius. Oh, and I forgot to mention the obligatory free plastic surgery.
Unfortunately, only one of these pre-order packages is available. When tallied up, everything is worth about $800,000. This means that it would actually be cheaper to purchase everything yourself and then spend $59 on the game when it releases. Sadly, there will more than likely be someone who buys this just because they can.
Related Tags