Gamers add $1 million to DotA 2's 'The International' prize pool
$1 million has been added to DotA 2's The Internatioanl championship tournament.

Published Mon, Jul 29 2013 11:24 PM CDT
|
Updated Tue, Nov 3 2020 12:21 PM CST
The world's largest DotA 2 championship tournament, The International, kicks off on Friday with group stage play and has quite the prize pool: over $2.7 million.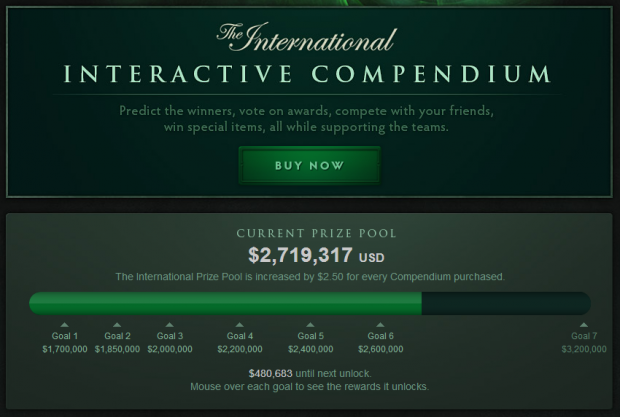 An extra $1 million has been added thanks to the sales of virtual items within DotA 2 by fellow gamers, so the prize pool could increase in the coming days. The DotA 2 Interaction Compendium has been on sale for nearly three months now, and allows gamers to make predictions for the tournament, as well as create fantasy teams within DotA 2.
Each sale is worth $10, with $2.50 of each sale going toward the tournament's prize pool, which has now passed $2.7 million. Valve have helped out here, with stretch-goal incentives that have seen six of the seven teams claiming thus far. The latest provides Compendium owners a new immortal item, as well as the other five perks unlocked up until now.
First prize in The International is at least $1 million, second receives $250,000 and third, $150,000. Not too bad at all if you ask me.
Related Tags