Swiftech pulls H220 CPU cooler from shelves after patent issues
Swiftech pulls H220 CPU Cooling Kit from US market.
Published Fri, Jul 19 2013 5:02 PM CDT
|
Updated Tue, Nov 3 2020 12:21 PM CST
This morning, PC liquid cooling giant Swiftech announced that it will be withdrawing the H220 CPU Cooling Kit from US sales due to a conflict with a patent held by AseTek. Back on June 7, 2013, Swiftech's parent company, Rouchon Industries, received a letter from AseTek claiming that the H220 CPU Cooler infringed on US patents 8,240,362, and 8,245,764.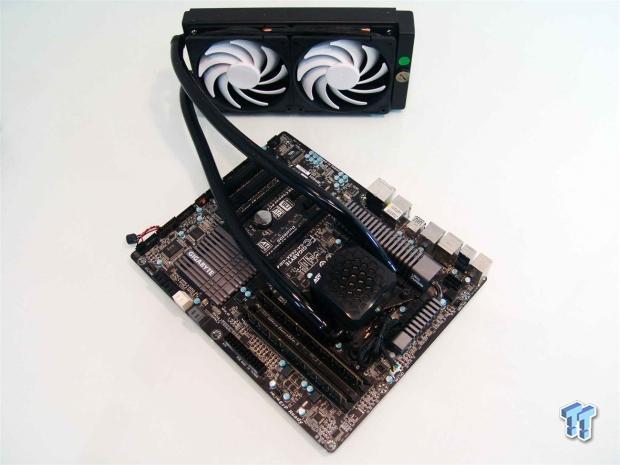 The letter demanded that Swiftech cease and desist all manufacturing, sales, and importation of the H220 CPU Cooler into the United States. The company says that on June 27, 2013 their counsel responded to AseTek stating that SwiftTech does not believe the H220 infringed on any patents held by AseTek. Swiftech says that they then asked AseTek if AseTek would be willing to offer a nonexclusive license for the asserted patents in an effort to avoid any unnecessary litigation.
On July 12, 2013, AseTek responded and stated that the company does not offer licenses on its patents. Swiftech says that it continues to firmly assert its position that it is not infringing on any patents but in an effort to avoid costly litigation, they have decided to pull the H220 CPU Cooling Kit from the US market. In a statement, the company had the following to say:
Given these circumstances, Swiftech wants to hereby reassure its US customers that: 1/ it will continue to provide full technical and warranty support for the H220 CPU cooling kits that have been sold in the US, and 2/ the product will continue to be sold in other countries.

Swiftech sincerely apologizes to its US customers for this extraordinary situation, the very first in its long history. For the past 15 years, Swiftech has been at the forefront of technological innovation in this industry, and it will continue to do so. In the words of Gabriel Rouchon, the company's Chairman and CTA: "I want our customers to know and expect with absolute confidence that Swiftech's resourcefulness will once again be brilliantly demonstrated in the immediate future".
Related Tags