Google's Street View now lets viewers experience Paris from the top of the Eiffel Tower
Google Street View visits the top of the Eiffel Tower, awe inspiring panoramas ensue.
Published Wed, Jul 17 2013 10:39 AM CDT
|
Updated Tue, Nov 3 2020 12:21 PM CST
Hot on the heels of Google's public beta of its refreshed maps, the company has now updated its Street View service to include views from atop the Eiffel Tower. Google says that they worked with the Eiffel Tower Operating Company to gather a fairly large stack of panoramic imagery from all three of the Eiffel Tower's viewing platforms. Additionally, Google has built an online exhibit that depicts the story of the Eiffel Tower through 50 archival images, plans, engravings, and photographs.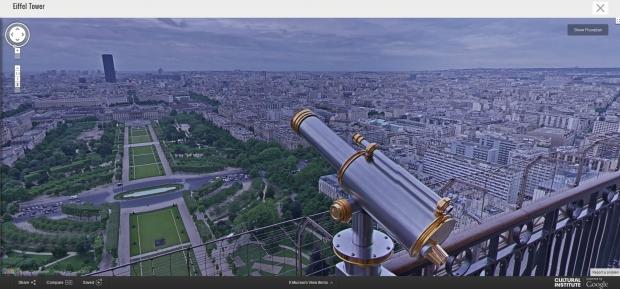 "In order to capture the imagery, the Street View team followed in the footsteps of 7 million annual visitors and ascended multiple floors of the Tower," Mark Yoshitake of the Google Cultural Institute wrote in a blog post introducing the new material. "Using the Street View Trolley (designed especially for monuments and museums) they filmed 360-degree views of the monument's architecture and its views over Paris."
The Eiffel Tower is 324 meters tall and held the title of tallest construction in the world for 40 years after it was built in 1889 until it was dethroned by the Chrysler building in New York City. It is comprised of over 18,000 separately made pieces and is one of the most photographed structures in the world.
Related Tags