Square Enix attempts to police jailbroken iPhones with Deus Ex, prevents firing of guns on jailbroken devices
Square Enix blocks game functionality on jailbroken iOS devices.
Published Fri, Jul 12 2013 5:31 PM CDT
|
Updated Tue, Nov 3 2020 12:22 PM CST
Square Enix has introduced a new "feature" to its latest IOS title, Deus Ex: The Fall, that effectively prevents anyone with a jailbroken iPhone or iPad from playing the game. Users can still load the game but when they attempt to fire their guns a message screen pops up that says "we're sorry but you can't fire on jailbroken devices."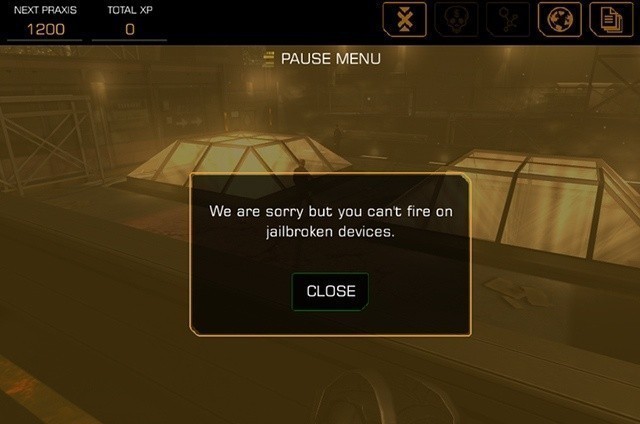 This new "feature" (and I use the term loosely) was first reported on the popular media sharing website Reddit. After news began to spread, the game's App Store page was quickly updated to warn users that the "play experience is currently restricted on jailbroken devices" and that interested parties "should not purchase if you have voided your warranty and have jailbroken your device."
At the moment, it is unclear why Square Enix chose to implement this new "feature," but some industry insiders are speculating that it could be to prevent piracy of the $6.99 game, while others say it is because the company would like to mitigate future support issues that could arise from a jailbroken device. I think it's a combination of piracy concerns as well as support issues.
Related Tags