Some Google users were shocked to find the service not available this morning, which caused a small bout of mass hysteria on social networking sites such as Facebook. The outages began around 9:30 AM ET and reports began to surface on Facebook and Twitter shortly thereafter.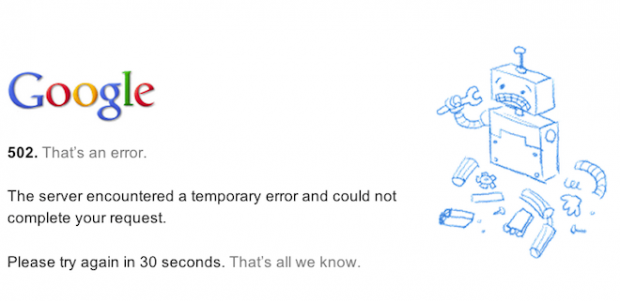 An hour later, around 10:30 AM ET, all of Google services had appeared to be restored and back to their full functionality. Among the services affected were Google+, Google Drive, YouTube, and Gmail. The outages appear to have only affected those living in the southeast region of the United States, however, this reporter experienced no interruptions at all.
Of course, the interruption of Google's services created quite the uproar in the online community and CNN.com managed to capture a few of these reactions for our viewing pleasure. I have listed them below for your enjoyment.
Adam Sullivan, in one of many similar comments, tweeted, "If Google is down... How will I ever Google "why is Google down?"

"Oh dear God it's the end of humanity as we know. Need to go buy bread and milk.#googledown," added Rebeccah Connelly.

The outage drove some users to rival search engine Bing, while prompting jokes on Twitter about the apocalypse.

"Looks like the Mayans were only off by 6ish months... " quippedErica Arbetter.

"I feel a great disturbance, as if millions of voices suddenly cried out in terror and were suddenly silenced. #googledown," added Matt Braddick.

Others were stunned that Google, a foundation of the Internet for many users, could be shut down.

"Google is like Walmart and Waffle House. It's supposed to be open 24/7. #GoogleDown," wrote Grant McFerrin.