LeakedTT: Sony's upcoming Xperia i1 with 20-megapixel camera pops up in group shot with other Xperia phones
Is Sony preparing a camera centric smartphone? Leaked images say yes!
Published Thu, Jun 27 2013 11:04 AM CDT
|
Updated Tue, Nov 3 2020 12:22 PM CST
Earlier this week, Sony introduced us to the massive 6.4-inch phablet known as the Xperia Z Ultra, and if a new leak is true, the company could have another home-run-hitting smartphone releasing soon. Known as the Xperia i1, the new phone will feature a 5.5-inch screen and possibly a QUALCOMM Snapdragon 800 Processor.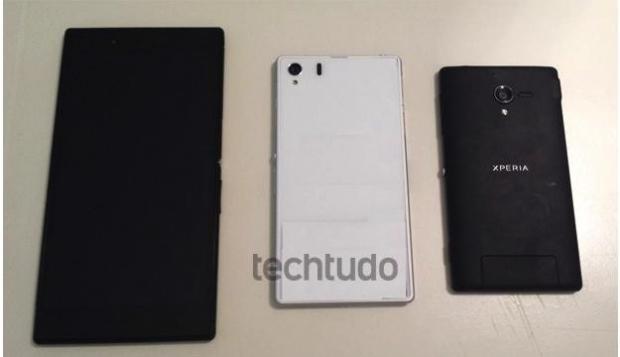 While those features are exciting, the big news is that this camera is said to feature a 20-megapixel camera which would be Sony's largest imaging sensor on a smartphone to date. The photo above is courtesy of a Brazilian tech site named TechTudo and pictures three Xperia devices with the Xperia Z Ultra on the left, the Xperia ZL claiming the right spot, and the rumored Xperia i1 in the middle.
If the leak is true, it shows that Sony is following in the footsteps of Samsung, Nokia, and LG by releasing multiple high-end smartphones in quick succession rather than one high-end phone and many low-end phones. With two other high-end camera-centric smartphones, the Galaxy S4 Zoom and Nokia Lumia 1020, appearing this year, is there enough room for this 20-megapixel Xperia i1?
Related Tags