LSI expands its Nytro PCIe Flash Adapter portfolio
LSI expands PCIe Flash portfolio.
Published Tue, Jun 25 2013 5:41 AM CDT
|
Updated Tue, Nov 3 2020 12:22 PM CST
LSI Corporation announced news of the latest version of the Nytro WarpDrive and the new Nytro MegaRAID software features. LSI Nytro products provide ultra-low latency and high-bandwidth performance required for Big Data applications, hyperscale web and cloud datacenters, financial services, virtual desktops and server workloads. These flash solutions provide significant reductions in TCO through lower power consumption, less floor space and frugal IOPS-to-Watts requirements.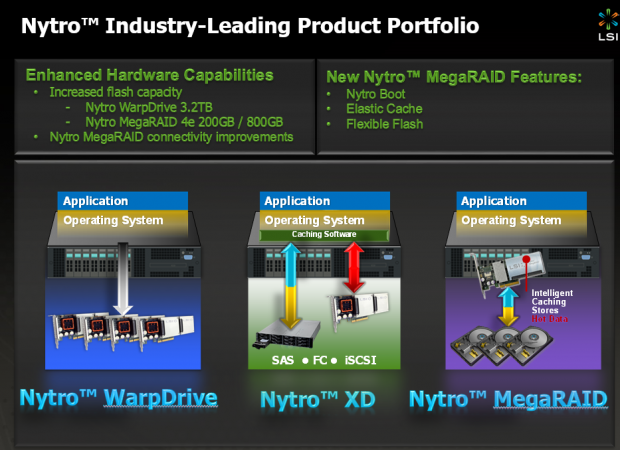 The flash segment has proven to be a big winner for LSI, with the delivery of over 50,000 PCIe flash cards having propelled LSI into the #2 position for the worldwide flash adapter market. The expansion of the Nytro product line includes enhanced hardware capabilities and new Nytro MegaRAID features.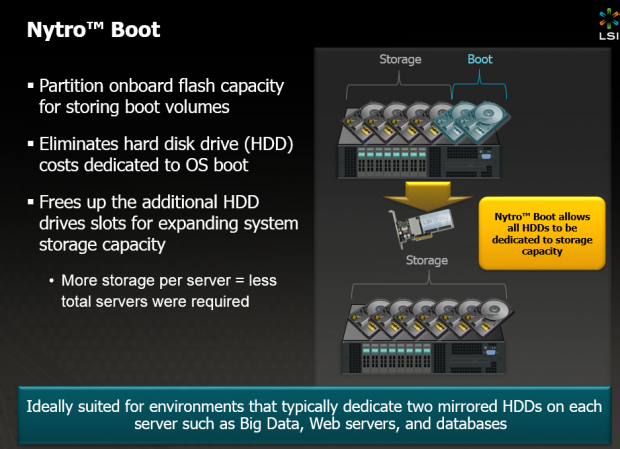 Nytro Boot provides the flexibility to partition onboard flash capacity's as a boot volume. This allows the Nytro MegaRAID card to provide the essential boot-up functions, removing the need for HDDs as boot volumes. This provides a more reliable system with less downtime, power consumption, and initial hardware acquisition costs.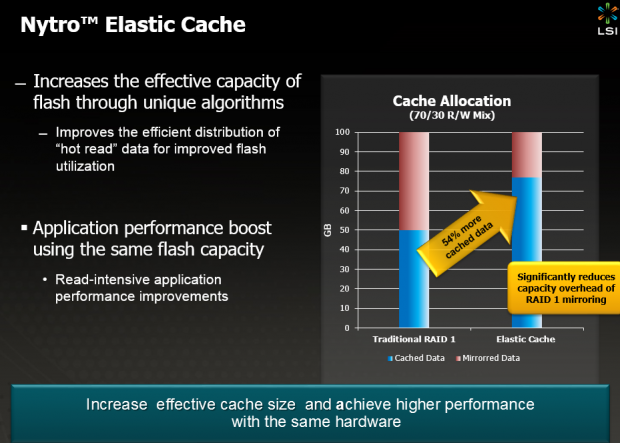 Nytro Elastic Cache extends the effective capacity of onboard flash with new algorithms that efficiently distribute 'hot read' data for improved flash utilization and read workload performance. This allows for an expansion of the available caching capacity with the same hardware, effectively boosting application performance.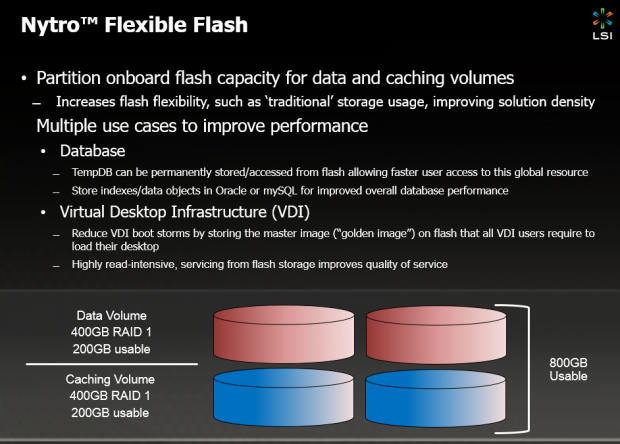 Nytro Flexible Flash provides the flexibility to utilize a portion of the Nytro MegaRAID onboard flash capacity as a data volume. This allows the selective placement of latency-sensitive I/O on the fast flash layer of storage. For example, simply moving the TempDB in an SQL database to flash will improve overall database performance. Allowing users to selectively pin data into the flash layer provides a number of opportunities for maximizing the utilization of flash resources.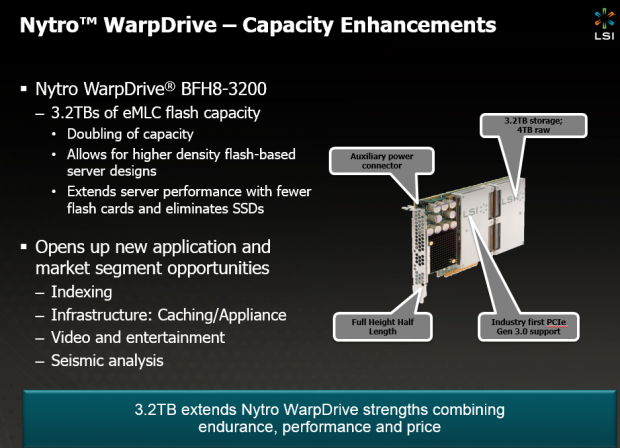 The new Nytro WarpDrive BFH8-3200 offers up a huge bump in capacity to 3.2TB of eMLC flash memory. This doubling of the available capacity allows for higher density flash-based designs. This requires the use of an auxiliary power connection in order to power the large amount of flash required, but also extends LSI's advantage in multi-card and large capacity deployments.
This new card also sports the first PCIe 3.0 interface on a PCIe flash adapter. This bumps sustained performance up to over 4.0Gb/s.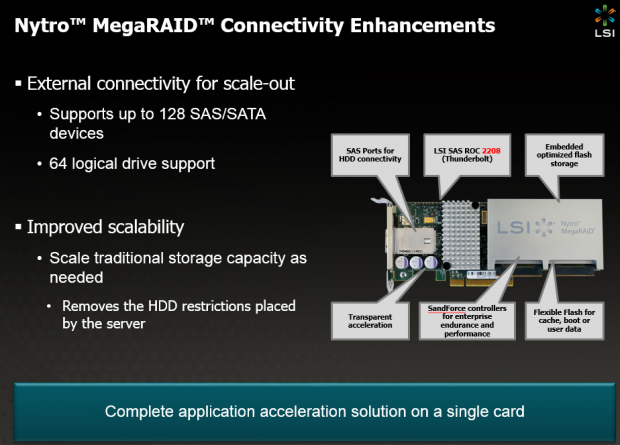 Nytro MegaRAID Connectivity Enhancements integrates 200GB of onboard eMLC with intelligent caching software and LSI's dual-core ROC technology. The addition of four external 6Gb/s SAS+SATA ports supports connectivity of up to 128 end devices. This delivers intelligent application acceleration, flexible flash storage, and enterprise-level data protection for DAS and external rack-mounted disk enclosure configurations.
The Nytro MegaRAID 8120-4e is the highest capacity Nytro MegaRAID card available, with 800GB of onboard eMLC flash with intelligent caching software and 4 external ports.
LSI's continued evolution of their solid state offerings enhances their already impressive portfolio with well thought out solutions to address performance challenges. With the explosion of flash into the datacenter, the acquisition of SandForce and the maturation of the Nytro family of products continue to pay big dividends for LSI.
Related Tags