Xbox One might not work in unsupported countries, would stop imports
Thinking of importing an Xbox One? Think again.

Published Fri, Jun 14 2013 5:12 AM CDT
|
Updated Tue, Nov 3 2020 12:22 PM CST
If you're living in a country where the Xbox One doesn't launch in at the end of the year and were thinking of importing, you might have to cancel those plans. It looks like Microsoft's next-gen console won't be supported in countries that it hasn't launched in yet, meaning imports are out of the question.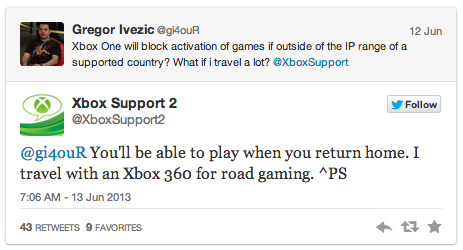 The question was tackled through Xbox Support through Twitter, where Gregor Ivezic asked if the "Xbox One will block activation of games if outside of the IP range of a supported country" to which @XboxSupport2 answered with "You'll be able to play when you return home. I travel with an Xbox 360 for road gaming."
The problem is, Japan isn't even getting the console at the end of the year, which is going to piss off a lot of Japanese gamers. It looks like Sony are going to be winning a huge war on this front, with the PlayStation 4 being region-free and all. "
Related Tags