Intel announces cloud computing-focused SSD - DC S3500 series
Intel launches new DC S3500 series solid state drives aimed at cloud computing applications.
Published Tue, Jun 11 2013 12:46 PM CDT
|
Updated Tue, Nov 3 2020 12:22 PM CST
This morning at the Cloud Computing Expo in New York, Intel announced the new Intel Solid-State Drive DC S3500 Series. The new drives are ideal for cloud computing and data center applications, especially read intensive applications like Web hosting, cloud computing and data center virtualization.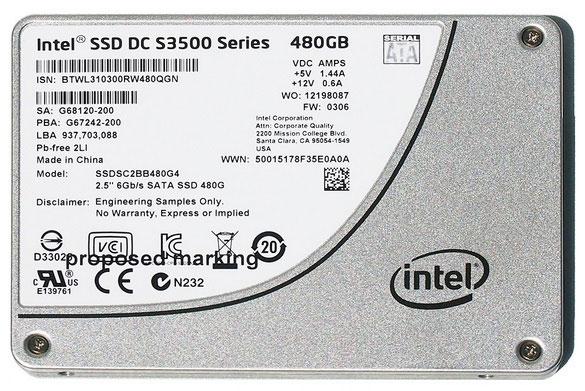 Intel says that "The DC S3500 Series will enable quicker Web page loads and improved response times as a result of dramatically improved data access times and reduced latency. IT managers and cloud developers will see lower total cost of ownership as a result of reduced power consumption, more consistent performance and smaller space requirements."
"Intel SSDs have enabled our chip designers to gain up to 27 percent performance throughput in our massive design distributed computing environment," said Kim Stevenson, chief information officer at Intel. "In fact, we are increasing our deployment of Intel SSDs in our data centers from 10,000 units to 40,000 by the end of this year to enable our global design team to help bring products to market faster."
Combining 20nm Intel NAND Flash Memory technology with SATA 6Gb/s interface support, the Intel SSD DC S3500 Series is able to deliver sequential read speeds of up to 500 MB/s and sequential write speeds of up to 450MB/s and a tight distribution of input/outputs per second with low maximum latencies. Random read performance can go up to 75,000 input-output operations per second.
You can read our own review on it by Paul Acorn, here.
Related Tags