Computex Taipei 2013 - Intel has hacked together some Thunderbolt-powered thumb drives. These 128GB drives interface using Intel's still relatively unused Thunderbolt connection to boost theoretical transfer speeds above those that are possible using a traditional USB 3.0 or SATA 3 interface.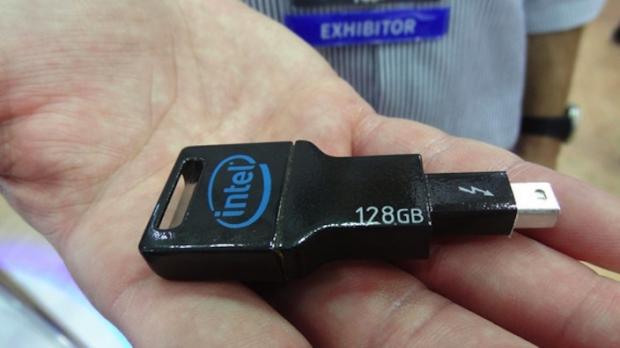 We doubt that the thumb drive will hit Thunderbolt's theoretical 10GB/s limit, but it should outperform SATA 3 6Gpbs. Interestingly, the hacked device makes use of a SanDisk SSD rather than an Intel SSD. It's not clear why they didn't make use of their own technology in the device.
While a Thunderbolt drive would be awesome, it's still quite expensive. It's cost-prohibitive to produce these devices until the cost for Thunderbolt comes down. The cost for Thunderbolt will likely only come down as adoption picks up. We're stuck in situation where one thing has to move first, but which will?