GIGABYTE reveals a slew of new gaming notebooks, Ultrabooks and more
GIGABYTE unveils their gaming orientated 'Ultrablade' gaming laptops, and much more.

Published Mon, Jun 3 2013 7:00 PM CDT
|
Updated Tue, Nov 3 2020 12:22 PM CST
Computex Taipei 2013 - GIGABYTE have come out swinging lately, with some great new motherboards and a beautiful new-look BIOS, and now we have a bunch of Ultrabook's and laptops to talk about. First up, we have the GIGABYTE Ultrablade gaming laptops, of which there are two models, the P35K and P34G.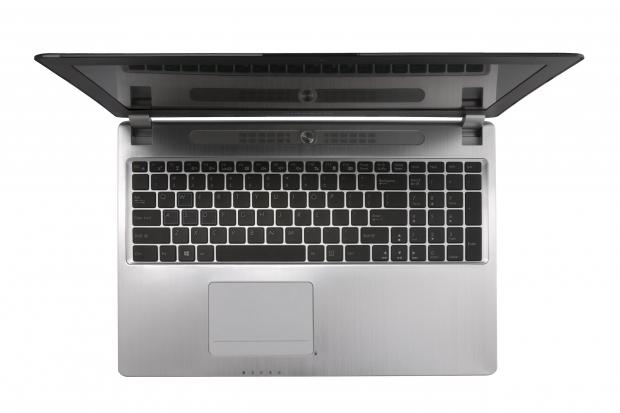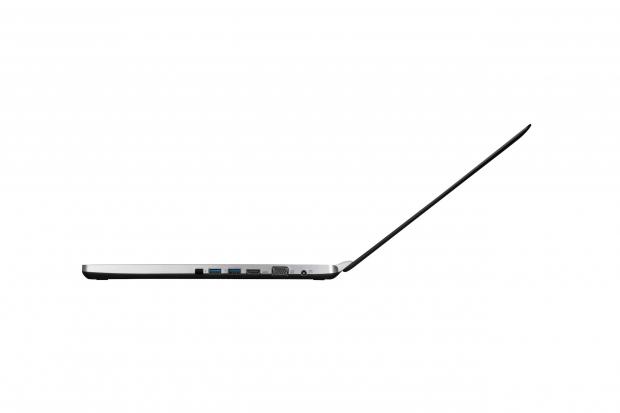 The GIGABYTE Ultrablade P35K is a 15.6-inch gaming laptop that features Intel's fourth-generation Core i7 "Haswell" processor and is "designed for true mobility". The P35K is just 21mm thin and weighs around 2.2kg and features NVIDIA's GeForce GTX 765M for some true on-the-go gaming. Storage hasn't been left out, with the P35K featuring no less than 3TB of storage space thanks to its 'quad-storage' system. There's also a swappable DVD-ROM/HDD slot on the P35K, complimenting its 1920x1080 (Full HD) IPS-based display.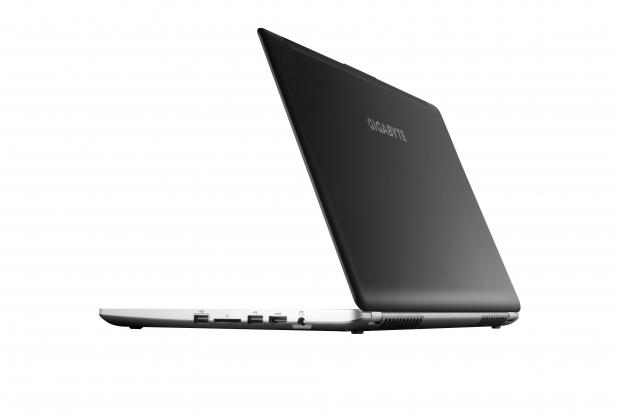 The little brother to the P35K is the Ultrablade P34G, which is a 14-inch laptop with a GTX 760M. The P34G weighs around 1.7kg and is 21mm thin, featuring a 256GB mSATA SSD and a 1TB HDD for storage. The P34G also features a 1080p display, which is great to see.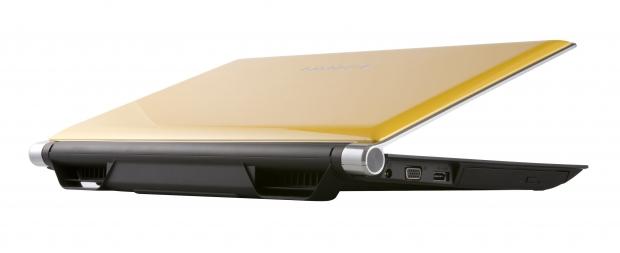 Next up we have GIGABYTE's gaming notebooks, where we have two models once more; the P25W and P27K. Starting with the P25W, which is a "reloaded version" of its predecessor, the P2542G. The P25W features a chrome yellow with silver trim chassis, which is sure to turn heads. It features discrete graphics which arrives in the form of the GTX 770M with 3GB of GDDR5 memory, and has a backlit keyboard. Storage wise, we have the ability to install two 256GB mSATA SSD's and a 1TB HDD. It also comes with a Blu-ray RW, and a 4.1-speaker audio system.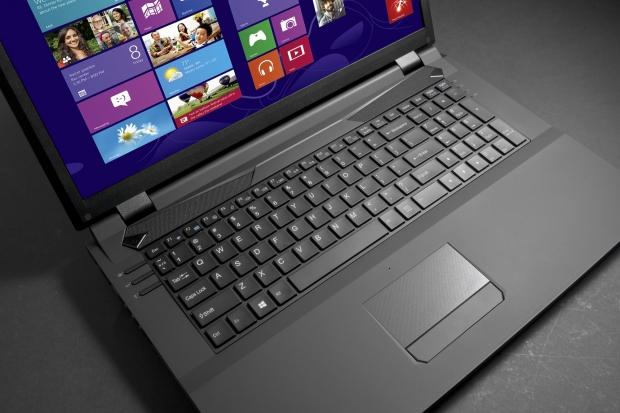 The bigger brother of this range, the P27K, delivers higher graphics performance thanks to its GTX 765M GPU with 2GB of GDDR5 memory and a backlit keyboard. It does do something special, though, giving you the ability to upgrade the memory to an insane 24GB. It too has the space to handle a 256GB mSATA SSD, and a 2TB drive. The P27K includes Sound Blaster sound quality optimization technology, and comes in two colors - automotive orange or moonless black. Both the P25W and P27K have Full HD 1080p displays and a bunch of connectivity options.

Moving on, we have the GIGABYTE Invincible U35F which features the fourth-generation Core "Haswell" processor and in pursuit of the ultimate excellence and perfection, the GIGABYTE R&D team designed the Invincible U35F with a dedicated GT 750M GPU with 4GB of DDR3 RAM and the awesome quad-storage system that supports up to two 512GB mSATA SSD's and two 1TB HDD's. We have the swappable DVD-ROM/HDD slot on the 1080p Full HD display and Sound Blaster sound quality optimization technology.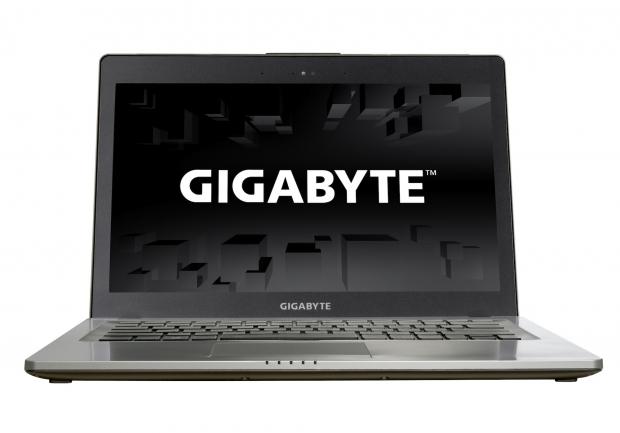 The U24F is designed with an 'elegant shuttle streamlined design' that crams everything into a device weighing just 1.69kg and has a sleek form factor tapered body from 18.5-21mm. It features a GeForce GT 750M discrete GPU, is capable of taking a 256GB mSATA SSD and 1TB of storage into its super-slim body>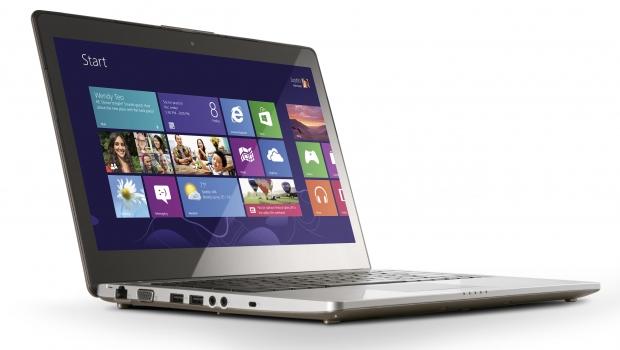 GIGABYTE's U24T stands out from the crowd by featuring a multi-touchscreen, as well as a GT 750M GPU. We have a 256GB mSATA SSD and 1TB drive for storage all in a 20.5mm thick and lightweight body.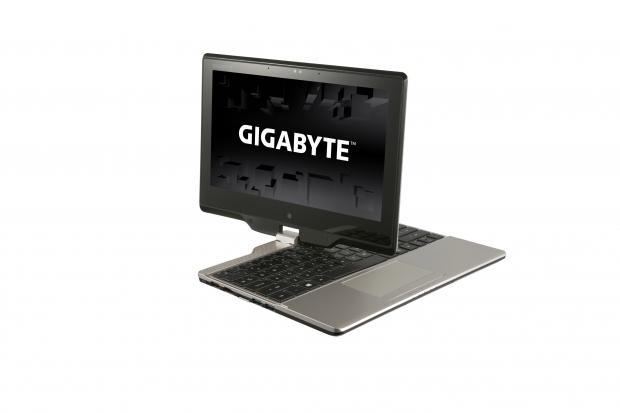 The next product from GIGABYTE is interesting, and is a "convertible laptop", which is the U21M. GIGABYTE's U21M is 20mm thin and weighs just 1.49kg, as well as featuring a 180-degree swivel 11.6-inch touchscreen. We also have a 256GB mSATA SSD and a 1TB drive for storage.
Next up we have the S1185, which is an 11.6-inch device GIGABYTE are calling the Padbook. The Padbook is a detachable tablet running Windows 8 and features a Full HD IPS-based display. There's a kickstand on offer which makes the Padbook great for hands-off use, like watching movies or reading. It features fixed standard VGA & HDMI ports, a magnetically attached keyboard kit, and multi-directional mouse pointer joystick and mouse buttons.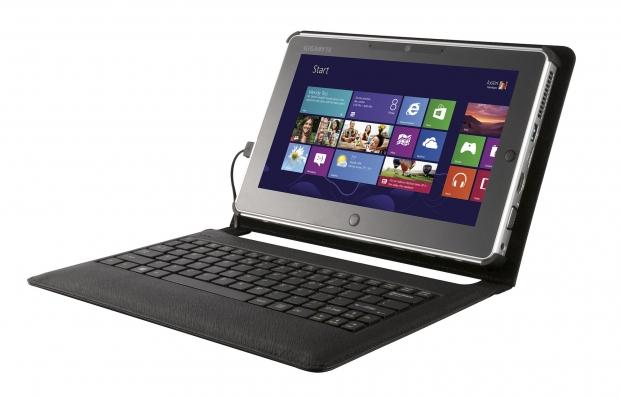 Then we have the S10A, which is powered by AMD's latest Temash A4-1200 processor, which also features Windows 8, USB 3.0 and 14 hours of productivity. The GIGABYTE S10A also includes Office Home 2013 which is perfect for people who need business on-the-go. The S10A has great versatility, and can double as a light notebook with the keyboard kit, or even as an entertainment center with the D1080 multimedia docking station.
The final two products GIGABYTE have unveiled are the Q2546N and the Q2556N, which feature angular diamond lines in quality matte black textured finish, which gives them a beautiful look. The Q series from GIGABYTE is an "affordable device" which is designed to "satisfy all needs for work and play". They feature NVIDIA's GT 740M and the dual-storage system, backed up by Sound Blaster Cinema sound quality optimization technology.
The Q2556N sports a swappable ODD/HDD slot and packs Intel's fourth-generation Core "Haswell" processor while the Q2546N features Intel's third-generation Core processor.
Related Tags