PS4 lays the graphical smackdown on the Xbox One, has 50% more GPU power
PS4 has 50% more graphics power than the Xbox One.

Published Thu, May 23 2013 9:24 PM CDT
|
Updated Tue, Nov 3 2020 12:23 PM CST
We've looked at the specifications between the next-gen consoles, the PlayStation 4 and Xbox One, but it looks like the PS4 might come out as the graphical champion. The PS4 features 50% more graphical horsepower than Microsoft's Xbox One, which is a huge advantage for Sony.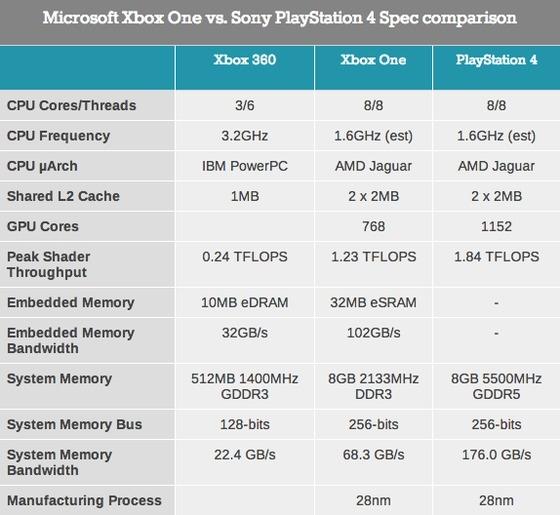 Both consoles share the same AMD architecture, built on AMD's HD 7000 GCN architecture. Microsoft however, have opted for a different configuration of the GPU that includes just 12 Compute Units that provides 768 shader processors (SPs) or ALUs. Sony have powered ahead, cramming 18 Compute Units that provide a total of 1152 shader processors giving them a huge 50% lead in graphical performance.
When it comes to compute performance the PS4 is around 33% faster than the Xbox One with the PS4 capable of 1.84 TFLOPS compared to 1.23 TFLOPS on the Xbox One. Normally this would see the PS4 with better looking games, or games that aren't as efficient, but developers are working with the same AMD architecture between the consoles, so that won't be the case here. What I think we'll see is Microsoft have more tuning behind the scenes in terms of the operating system, so it might multi-task better, but the PS4 will have more grunt.
This grunt will come in handy when Sony, who make TVs and are the company behind Blu-ray, push 4K. That huge increase in internal bandwidth will help them be capable of higher frame rates at 4K resolutions, something Microsoft might have issues with. Microsoft could keep up, but the Xbox One would see in-game details turned down to keep the resolution and frame rate high.
Related Tags