Core i7 3770K overclocked to an insane 7.2GHz using a GIGABYTE Z77X-UP7 motherboard
A new world record has been achieved using the Core i7 3770K - clocking up to 7.2GHz!

Published Wed, May 8 2013 9:33 PM CDT
|
Updated Tue, Nov 3 2020 12:23 PM CST
If you thought your mild overclock was good, or the previous overclocking world record, prepare yourself. Mad222 and John222 from HKEPC have found the golden Core i7 3770K, which has been used to reach a new world record overclock.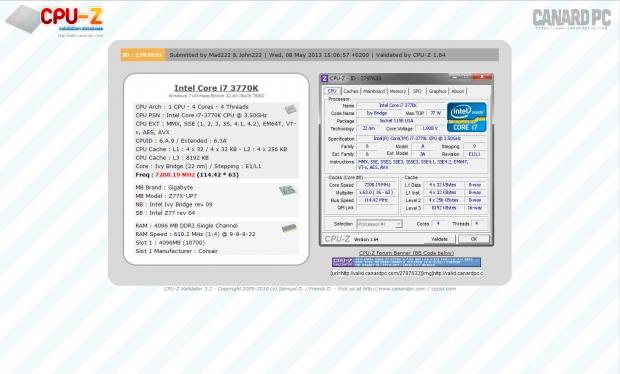 The two overclockers used their Core i7 3770K with 1.908 volts pulsating through it to reach a maximum clock speed of 7,208.19MHz - or 7.2GHz! This was achieved using a BCLK of 114.42 on a GIGABYTE Z77X-UP7 motherboard. This overclock is even more special, considering the two overclockers kept Hyper-Threading enabled, which means we have the four physical cores and four logical cores all cranking at 7.2GHz.
Related Tags