Haswell IMC could make memory overclocking fun again for Intel CPU users in the months ahead
Haswell seems to overclock well with multiple DIMMs of RAM, according to report.
Published Thu, May 2 2013 11:14 AM CDT
|
Updated Tue, Nov 3 2020 12:23 PM CST
With the introduction of Ivy Bridge, memory overclockers were disappointed to learn that high CPU overclocks were usually only capable with a single stick of RAM, and not with fully populated DIMM slots.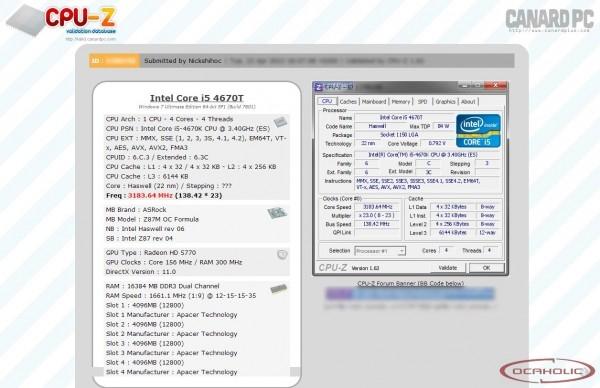 This morning Ocaholic has posted a CPU-Z report that shows an Intel Core i5 4670T overclocked to 3.322GHz using 16GB of Apacer RAM. While a RAM overclock of 1.661GHz (3.3GHz DDR) is nothing special with a single RAM stick, the important thing to note is that it was achieved with all four DIMM's populated.
This means that the IMC used in Haswell could resurrect the good old days of speedy memory overclocking on Intel platforms in the months ahead.
Related Tags