Intel lifts their game with their integrated graphics on Haswell
Intel's new on the fourth-generation Core processors gets detailed.

Published Wed, May 1 2013 10:15 PM CDT
|
Updated Tue, Nov 3 2020 12:23 PM CST
Intel have just taken the wraps off of the new naming on their integrated graphics found in the fourth-generation Core processors, otherwise known as "Haswell". Welcome to the Intel Iris and Iris Pro Graphics. Iris Pro will be available on select CPUs denoted by an R at the end, such as the i7-4770R.
Iris is a huge leap over the previous third-generation Core processors, with nearly twice the graphics performance and over three times the graphics performance of the second-generation Core processors.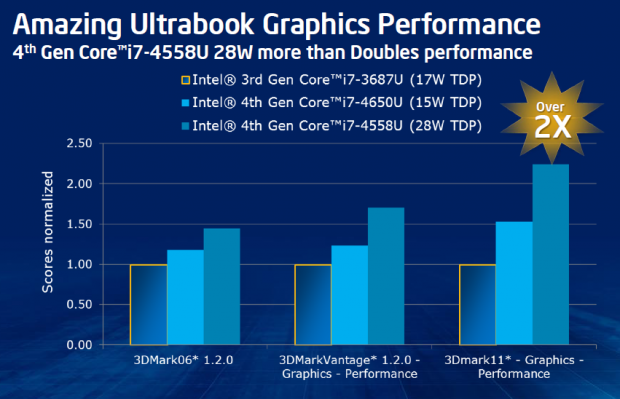 When Intel compare their fourth-generation Ultrabook part, the Core i7-4558U (a 28W part) gets pitted against the Core i7-4650U (a 15W part) and the third-generation Core i7-3687U (a 17W part) it is a decent distance from them in terms of performance. Compared to the previous-generation part, the new i7-4558U is over twice as fast in 3DMark 11, and around 1.5x the performance in both 3DMark 06 and 3DMark Vantage.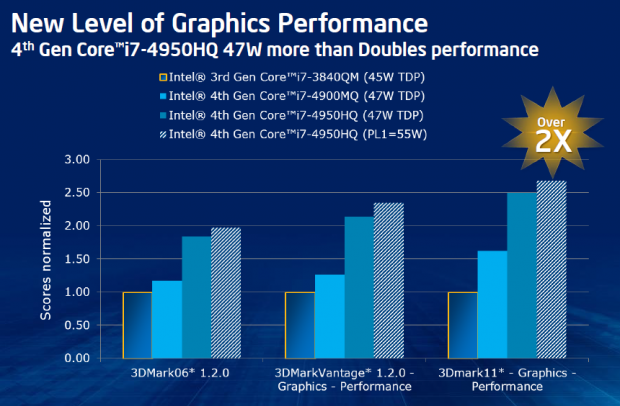 Moving into higher-end of things, we have the fourth-generation Core i7 4900MQ (47W), Core i7-4950HQ (also a 47W part) and the Core i7-4950HQ (a 55W part) compared against the third-generation Core i7-3840QM (a 45M part). As you can see, the new processors' integrated graphics have some great performance gains.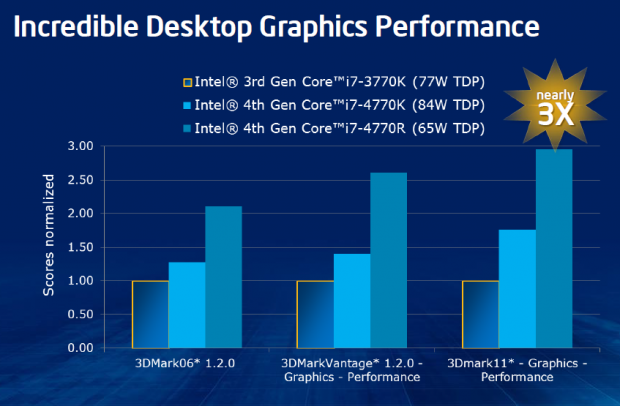 Now we get onto some desktop parts, with the Core i7-4770K (an 84W part) and the i7-4770R (65W) compared against the Core i7 3770K (77W). The i7-4770K doesn't have much more performance on top of the i7-3770K, but the i7-4770R? A huge difference, up to triple the graphics performance i7-3770K.
The R-series desktop processors are BGA solutions, and not something the usual consumer would use, so keep that in mind. Most consumers will use every other processor but the R-series, and will most likely by default be gunning for the Core i7-4770K. In my opinion, most people going for a high-end processor usually are enthusiasts or power users, and will opt for discrete graphics anyway.
But, integrated graphics are great for casual gaming and Ultrabook or mobile solutions. Intel are getting better with their integrated graphics, that's for sure and I can't wait to see how they perform in the real-world with some gaming.
Related Tags