Kim Dotcom is #2 on the Time.com Top 100 influential people poll, tells the FBI to "Eat This"
Kim Dotcom directs FBI to "Eat This" after topping the Time.com Top 100 chart.
Published Thu, Apr 11 2013 8:59 AM CDT
|
Updated Tue, Nov 3 2020 12:23 PM CST
Kim Dotcom, the founder of the popular Mega file locker service, has yet another reason to taunt US authorities who wish to see him jailed. This morning the file sharing guru is amongst the most popular people in America, landing him the number two spot on Time.com's top 100 people list.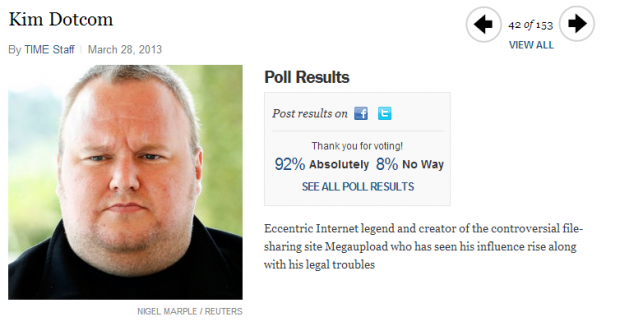 For those unfamiliar with the Time.com Top 100 list, it is a list in which you cast your vote for the leaders, artists, innovators, icons and heroes that you think are the most influential people in the world. With 108,263 votes, Dotcom is second only to Egyptian president Mohamed Morsi.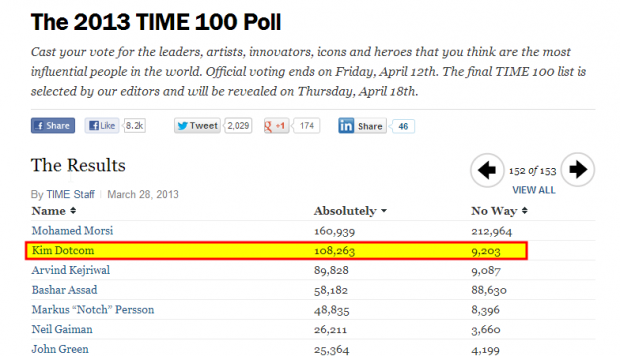 Dotcom has been very vocal about his appearance on the list and at one point yesterday he was sitting at the top of the chart and tweeted telling the FBI to "Eat This." I for one am personally a big fan of Dotcom for his innovation on creating Mega, a service I use on a daily basis for image backups and code storage.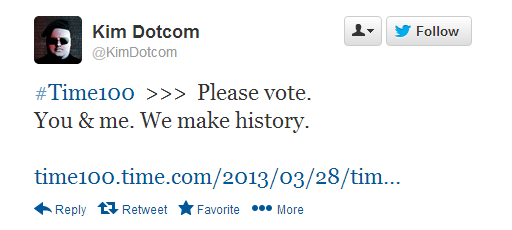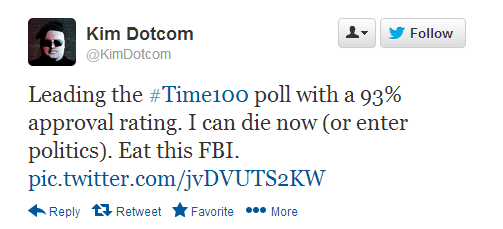 Related Tags