This morning a Taiwan news station reported that the Queen of England, Queen Elizabeth, had passed away. However, we are happy to report that the Queen is alive and well. The report headline said (as pictured below): "Queen of England passes away, and we will miss her." It appears that the passing of Margaret Thatcher, the former Prime Minister of the United Kingdom, was confused with the Queen.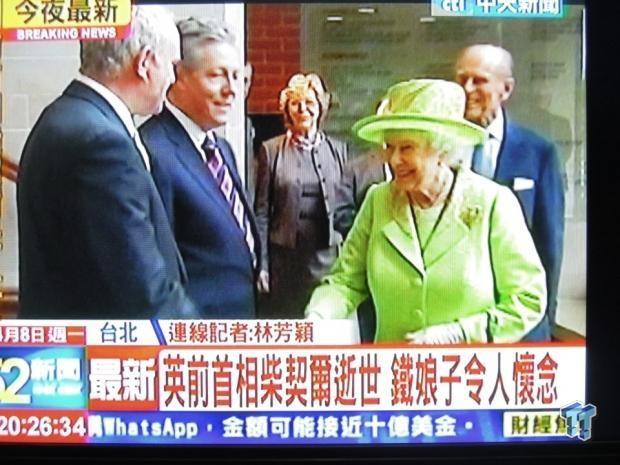 Margaret Thatcher served the UK as prime minister from 1979 until 1990, and holds the title as England's longest serving politician, and nicknamed the "Iron Lady" because of her uncompromising politics and leadership style. As prime minister, she implemented conservative policies that have come to be known as Thatcherism.
While we at TweakTown are sad to hear of Baroness Thatcher's passing, we are happy to report that the Queen is doing just fine. In general I hold all media sources to the highest standards and as a journalist myself, I fact check everything I post before hitting that submit button.
What has Taiwan news media been smoking this morning?
UPDATE: To be clear, there was some confusion to the translation of the headline. Some are stating the Chinese wording translates to "Queen" and others "Prime Minister". The fact remain for sure that the image used is of the Queen of England, and not Margaret Thatcher.
UPDATE #2: As you can see below, more pictures are being posted to Facebook.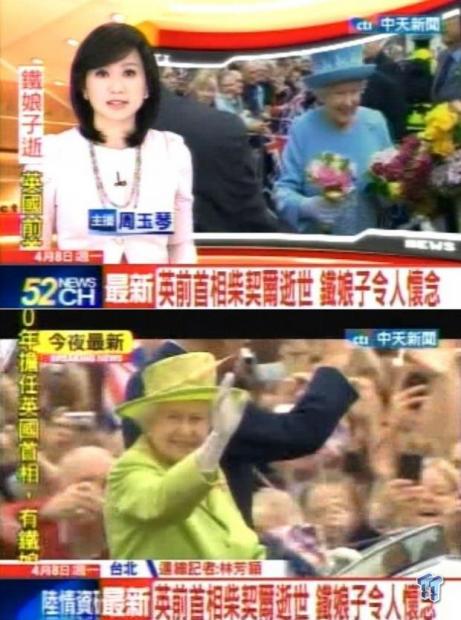 UPDATE #3: We apologize for the incorrect translation of the headline. Our original news source provided an incorrect translation. The headline statement is correct. However, the fact still remains that the wrong imagery was used more than once, and we feel that is unforgivable.
UPDATE #4: The station has now apologized for using the wrong images.
UPDATE #5: A video of the news segment has been uploaded to YouTube. Towards the end of the news segment you can see a CNN clip, which actually features the late Margaret Thatcher.