According to ZDNet's sources, Microsoft's upcoming Windows Blue will be known as Windows 8.1 to the public. As you can see in the screenshot below, the operating system is clearly labeled as "Microsoft Windows 8.1 Pro." It looks like Windows Blue could be similar to the service packs of yesteryear.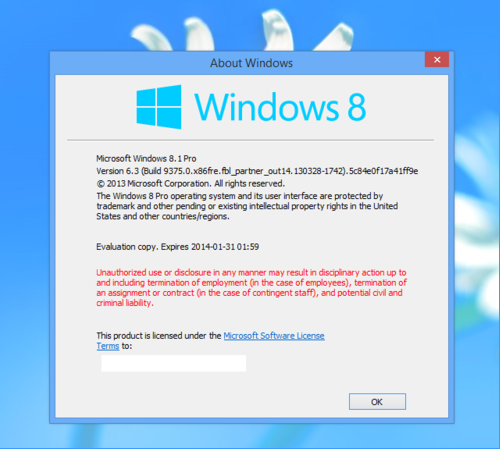 The update appears to follow along the lines of Windows Phone 7 and 7.5. Windows RT is said to be known as "Windows RT 8.1." Microsoft envisions Windows 8 as a multiple selling season product meaning these refreshes every year or so, somewhat like how Apple updates Mac OS X in that they have 10.6, 10.7, and 10.8 each with their own codename.
It's not clear whether Microsoft intends to charge customers to update, though I would venture to guess they will charge a fee. If I had to guess a number, I'd guess $20.