Android and Me have received an an image from an anonymous source, claiming that they work for Google, telling them the image below is the real deal on the Nexus 5. Their source claims that the Nexus 5 would be released later this year, October to be precise, and that they are evaluating several prototypes from different manufacturers.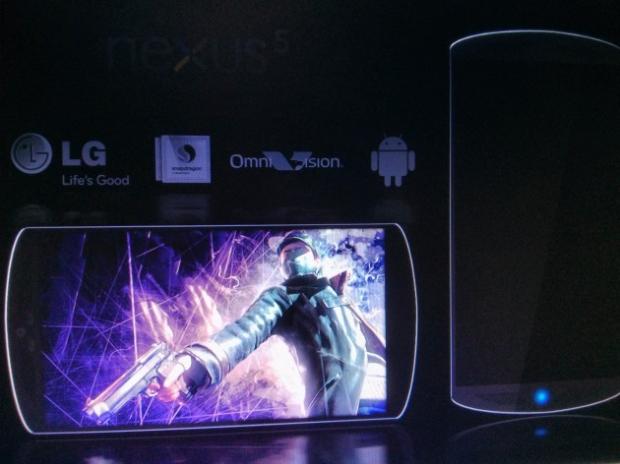 One of these prototype's is LG's, who made the Nexus 4, and is going under the codename of "Megalodon". Megalodon looks like a serious powerhouse, but before we get into them we will state that this is a serious rumor, and half of these specs are most likely not correct:
5.2" OLED Display with 1920x1080 resolution

Qualcomm Snapdragon 800 @ 2.3 GHz

3GB LPDDR3 Ram

16/32/64GB of internal storage

16MP rear camera by OmniVision (4k video recording @30FPS, 1080p video recording @60FPS, Real Time HDR & HDR video recording, optical image stabilization, BSI 2.0)

2.1MP front camera (1080p video recording @30FPS)

3300 mAh Lithium Polymer battery

Front positioned stereo speakers

Qualcomm RF360 (LTE 150 Mbps & HSPA+)

Integrated DVB-T / ATSC-antenna

Gesture like controls (navigation, zoom, etc)
A Nexus 5 with a 5.2-inch display would make sense, since we're seeing more high-end smartphones feature bigger displays, like the Galaxy S4's 4.99-inch display. 3GB of RAM is quite insane, so is a 2.3GHz-clocked processor. The 16-megapixel rear-facing camera with 4k video recording is quite a step forward, as is the 3300mAh battery. I'd expect those specs to be the ones that change, but I do think we'll see Google put even more pressure on Apple going into the future. Bring it on!