LAN ETS defeats the apocalypse by getting an AMD FX 8350 to 8027MHz
LAN ETS crew achieves 8GHz+ on AMD FX 8350 CPU using LN2.
Published Mon, Mar 4 2013 1:02 PM CST
|
Updated Tue, Nov 3 2020 12:24 PM CST
A group of overclockers at Canada's biggest LAN party have managed to push an AMD FX 8350 all the way up to 8027MHz. The feat was achieved using extreme voltage and cooing and was part of a demonstration about the importance of insulation and testing the hardware step by step.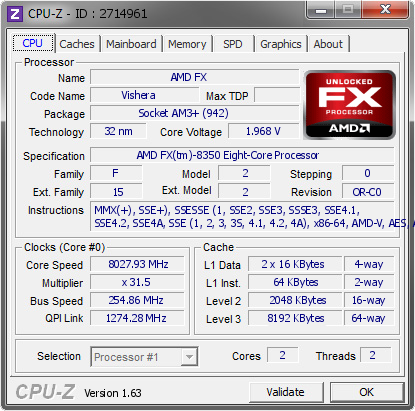 The feat was achieved with an ASUS Crosshair V Formula-Z, Corsair Dominator GTX3 memory, Corsair AX850i PSU, and Ryba LN2 pot. Achieving a max speed of 8027.93MHz required 1.968 volts through the core and a multiplier of 31.5 and bus clock of 254.86MHz. Of course, only 2 cores and threads were active for the run.
This is the sixteenth best score achieved on this CPU if you go by Hwbot's listings.
Related Tags